Overall equipment effectiveness (OEE) has been a leading manufacturing performance metric for decades. As Industry 4.0 has taken off, manufacturers now have a range of new tools and techniques that can improve their OEE scores.
So how do you measure the productivity of your manufacturing equipment? How do you gain insight to improve your processes? The answer is Overall Equipment Effectiveness, or OEE.
Records 1 to 2 of 2
Featured Product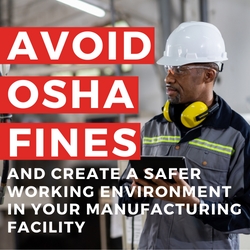 Since 1971, part of OSHA's mission has been to enforce standards that create safe working conditions. In order to ensure these standards are being met, OSHA regularly conducts workplace inspections, oftentimes following a worker complaint, which may result in fines being levied. Download this short guide to learn steps you can take to protect your manufacturing employees from unsafe working conditions and protect your company from potentially devastating fines and penalties.