ATX West will be held from February 7th - 9th in Anaheim, California. This ManufacturingTomorrow.com Special Tradeshow report aims to bring you news, articles and products from this years event.

Brandon Hetherington for | ManufacturingTomorrow.com
ManufacturingTomorrow.com - Special Tradeshow Coverage of ATX West 2017 in Anaheim, California
The ATX West expo gives you the largest collection of advanced design and manufacturing technology suppliers in the world. Whether your focus is custom automation and assembly, collaborative robotics, M-to-M communication, manufacturing-floor robotics, or data security, source products and services for the development of automation and robotics innovation in a time-saving format with more than 2,200 solution providers — all in one location.
This article will assist you in finding what you are interested in at ATX West 2017.
---
At ATX West 2017:
CENTER STAGE - Your Learning Hub
Center Stage is the base for all of the show action, every day. Free presentations, demonstrations, and state-of-the-industry spotlights will cover topics including industrial robotics, Industrial IoT, virtual reality, mega trends, and DIY. Full Schedule.
TECH THEATER - The Latest Tech in Action
The Tech Theater is where the most innovative exhibitors showcase their latest automation and robotics technologies. Ask questions, get answers, and discover new solutions you can engineer into your projects. Full Schedule.
LUNCHES & WORKSHOPS - Feed Your Hunger to Learn!
Sponsored lunch-and-learn sessions, as well as our full- and half-day workshops, for extra insight and education you simply can't find at the office. Last year's sessions included an insightful look into automation software's impact on reducing risk in the manufacturing process
GOLDEN MOUSETRAP AWARDS - Honoring Design Excellence
Celebrate the exceptional efforts in advanced design and manufacturing—by start-ups and giants alike—at America's biggest awards event for the industry. Don't miss meeting 2017's innovative winners, including the Rising Engineer Star and Gadget Freak of the Year.
SMART MANUFACTURING FOCUS - Discover the Factory of the Future
Smart manufacturing is here to stay. Explore a host of activities, specialist suppliers, and educational sessions that will bring you face-to-face with the collaborative robots and cyber-physical systems you need to understand to keep up with the shifting landscape. Full Schedule.
---
Visit RoboticsTomorrow.com Sponsors at the show:
igus - Booth #3419
---
Other must read articles and resources about ATX West 2017 from around the internet.
The content & opinions in this article are the author's and do not necessarily represent the views of ManufacturingTomorrow
---
Comments (0)
This post does not have any comments. Be the first to leave a comment below.
---
Post A Comment
You must be logged in before you can post a comment. Login now.
Featured Product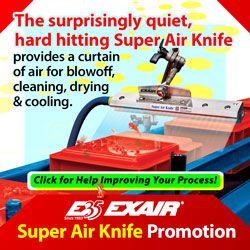 Why is compressed air safety a concern? Compressed air is commonly referred to as the "fourth utility" because it is very common as a resource within manufacturing, mining and processing environments. Are there regulations that govern the use of compressed air? Yes, OSHA has two important standards relevant to compressed air. Standard 29 CFR 1910.242(b) is specific to compressed air use for cleaning and states - "Compressed air shall not be used for cleaning purposes except where reduced to less than 30 p.s.i. and then only with effective chip guarding and personal protective equipment. How do EXAIR's engineered air nozzles work? Air Nozzles use the Coanda effect to amplify compressed airflow up to 25 times or more. The air is always ejected so it can vent safely, well below OSHA dead end pressure requirements, should the nozzle end be blocked. Learn more now.