Bulgin has launched a new range of industrial automation components which have been designed to offer flexible connectivity solutions for a variety of rugged automation applications.
-Collaboration with Dassault Systèmes SIMULIA to enable final part designs that are optimized for weight and strength for aerospace and automotive applications -New GrabCAD Print Add-In for Dassault Systèmes SOLIDWORKS allows users to estimate and print parts without leaving the SOLIDWORKS environment
Quick-turn digital manufacturer, Proto Labs, has added insert molding services to their offerings. The company uses advanced 3D printing, CNC machining and injection molding technologies to produce custom parts within days.
Datalogic will be exhibiting at North America's largest annual automation technology event - ATX West.
Airwolf 3D introduces Wolfbite NITRO, a 3D printing nylon adhesive engineered to improve bed adhesion and reduce warpage.
AXIOM 3D Printer is a finalist in the 2016 Golden Mousetrap Awards. This product, by Airwolf 3D, was selected as a finalist in the category of Materials & Assembly, 3D-Printing & Rapid Prototyping, Materials, Tools & Services.
Live Demonstrations, Cutting Edge Learning, Top Networking, Interactive Discussion Panels and a Hollywood-Inspired Keynote Highlight February's Show
JB Plastics, an industry leader in comprehensive injection molding services will showcase it products and services at this years Plastec West, Feb 7-9 at the Anaheim Convention Center in Anaheim, CA.
Independent moving cart technology can increase productivity and reduce changeover times compared to belt-and-chain motion systems
Gadget Freak of the Year and Rising Engineering Star Award winners also unveiled
Displaying the Latest Torque Testing & Assembly Technology
At booth #4604, Stäubli will exhibit the latest in robotics automation. Stäubli's range of clean, consistent high performance robots will be illustrating a number of tasks specifically for manufacturing automation. From product picking at extremely high speeds, to the safety aspects of product handling, Staubli robotics offers a full solution for automating many manufacturing processes.
Records 1 to 13 of 13
Featured Product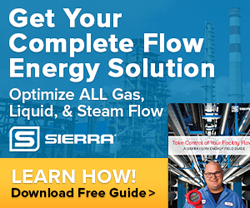 Download Flow Energy Guide - Written by Engineers For Engineers. Learn how to save on energy costs by optimizing your facility flows that impact costs like compressed air, natural gas, steam, and hot or chilled water.