Independent moving cart technology can increase productivity and reduce changeover times compared to belt-and-chain motion systems
MILWAUKEE, Feb. 2, 2017 — MagneMotion, a Rockwell Automation company, will showcase its independent moving cart technology at the Automation Technology Expo West (ATX West) in Anaheim, California, Feb. 7-9. The featured intelligent motion systems, including the MagneMover LITE intelligent conveyor system and iTRAK intelligent track system can help improve productivity in manufacturing operations.

Traditional motion-control systems use chains, belts and gears. This mechanical design approach can require time-consuming retooling for changeovers. Intelligent motion systems, on the other hand, replace hardware with simple software profiles, so changeovers can occur at the press of a button. The systems use programmable independent carts on a straight or curved track to boost speeds by up to 30 percent over mechanical systems.
"Intelligent motion systems can speed up changeovers and result in fewer moving parts that can break down, and high-speed independent movers can boost throughput," said Neil Bentley, product line management, MagneMotion. "These systems can be scaled to support a wide range of applications, from moving and positioning products in-machine to transporting products between machines."
ATX West attendees can learn more about the benefits of smart motion systems and see product demonstrations at MagneMotion Booth 4401.
The MagneMover LITE intelligent conveyor system is designed to quickly and efficiently move light loads. The system outperforms conventional belt-and-chain conveyors for in-machine and between-machine applications.
The iTRAK intelligent track system enables independent control of multiple, magnetically propelled movers on straight or curved paths. For end users, this can result in easier machine customization, reduced mechanical complexity and increased performance.
These intelligent motion systems can be used in assembly, process, test and manufacturing applications in the medical device, assembly, automotive, pharmaceutical, packaging and optical industries. In addition to their performance and uptime benefits, the systems also can help end users reduce their energy usage and machine footprint size.
About Rockwell Automation
Rockwell Automation Inc. (NYSE: ROK), the world's largest company dedicated to industrial automation and information, makes its customers more productive and the world more sustainable. Headquartered in Milwaukee, Wis., Rockwell Automation employs approximately 22,000 people serving customers in more than 80 countries.
Featured Product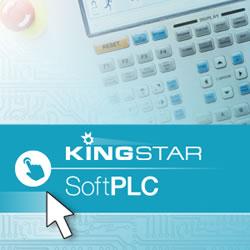 The top machine builders are switching from proprietary hardware-based PLCs, like Allen-Bradley, TwinCAT, Mitsubishi and KEYENCE, to open standards-based EtherCAT-enabled software PLCs on IPCs. KINGSTAR provides a fully-featured and integrated software PLC based on an open and accessible RTOS. KINGSTAR Soft PLC also includes add-on or third-party components for motion control and machine vision that are managed by a rich user interface for C++ programmers and non-developers alike.