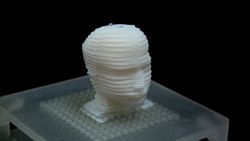 - A new 3D soft robot created by automatically cutting and folding plastic films - Moving smoothly according to the rhythm of operas songs and/or the dialogue of movie scenes - Expecting a new application of animatronic soft robots in the art and culture industry
Matthew Humphries for PCMag: Catching a fish can be tough, even if you are just trying to net a goldfish in a small tank. That's because the fish spots the danger and makes a swim for it. But what if you didn't need a net because you're controlling an invisible grabbing robot? That's what Xuanhe Zhao, a professor of mechanical engineering at MIT succeeded in creating, but its applications go way beyond catching and releasing fish unharmed. The robot is constructed of a transparent hydrogel, which is strong and durable but mostly made of water. As the video below explains, each arm of the robot is constructed from 3D-printed hollow cubes of hydrogel, which are then linked together. By injecting water using a syringe it's possible to make the arms curl and uncurl quickly in a grabbing motion. Cont'd...
Records 1 to 2 of 2
Featured Product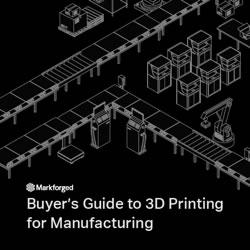 3D printing has become a powerful force in today's manufacturing industry from prototyping to tooling and fixtures to custom, end-use parts. Many businesses struggle to find the right solutions to fit their needs and provide ROI. Selecting the right platform to prevent manufacturing roadblocks is vital to optimizing your manufacturing line productivity. Download the all new buyer's guide to help you evaluate the benefits of 3D printing and dispel misconceptions, understand the pros/cons of various 3D printing processes and materials, and assess the key considerations in selecting a 3D printer.