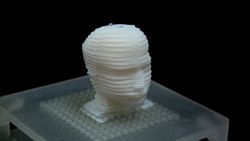 - A new 3D soft robot created by automatically cutting and folding plastic films - Moving smoothly according to the rhythm of operas songs and/or the dialogue of movie scenes - Expecting a new application of animatronic soft robots in the art and culture industry
Matthew Humphries for PCMag: Catching a fish can be tough, even if you are just trying to net a goldfish in a small tank. That's because the fish spots the danger and makes a swim for it. But what if you didn't need a net because you're controlling an invisible grabbing robot? That's what Xuanhe Zhao, a professor of mechanical engineering at MIT succeeded in creating, but its applications go way beyond catching and releasing fish unharmed. The robot is constructed of a transparent hydrogel, which is strong and durable but mostly made of water. As the video below explains, each arm of the robot is constructed from 3D-printed hollow cubes of hydrogel, which are then linked together. By injecting water using a syringe it's possible to make the arms curl and uncurl quickly in a grabbing motion. Cont'd...
Records 1 to 2 of 2
Featured Product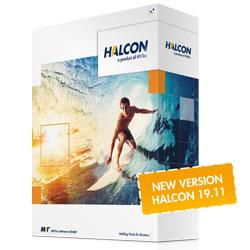 MVTec HALCON is the comprehensive standard software for machine vision with an integrated development environment that is used worldwide in all kind of industries. It enables cost savings and improved time to market. HALCON's flexible architecture facilitates rapid development of any kind of machine vision application. The software provides outstanding performance and a comprehensive support of multi-core platforms, special instruction sets like AVX2 and NEON, as well as GPU acceleration. The latest version HALCON 19.11 offers a wide range of new and improved machine vision functions. Particular emphasis was placed on the integration of further deep learning features. Now users benefit from massive simplifications for their applications, like faster inspection with anomaly detection, more transparency with the Grad-CAM heatmap and the support of ONNX format.