MIT Builds Invisible Fish Grabbing Robot
Matthew Humphries for PCMag: Catching a fish can be tough, even if you are just trying to net a goldfish in a small tank. That's because the fish spots the danger and makes a swim for it. But what if you didn't need a net because you're controlling an invisible grabbing robot?
That's what Xuanhe Zhao, a professor of mechanical engineering at MIT succeeded in creating, but its applications go way beyond catching and releasing fish unharmed.
The robot is constructed of a transparent hydrogel, which is strong and durable but mostly made of water. As the video below explains, each arm of the robot is constructed from 3D-printed hollow cubes of hydrogel, which are then linked together. By injecting water using a syringe it's possible to make the arms curl and uncurl quickly in a grabbing motion. Cont'd...
Comments (0)
This post does not have any comments. Be the first to leave a comment below.
---
Post A Comment
You must be logged in before you can post a comment. Login now.
Featured Product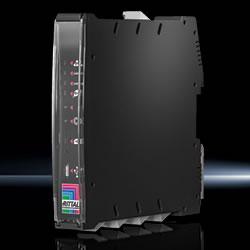 Download the Rittal Fact Book, we'll show you side-by-side product comparisons of Rittal and competitive products, and let you decide. You are an innovator. Your mind runs with "What if?" and the status quo can always be improved. When you find a supplier like Rittal who is forward thinking, you know you've found a partner. A supplier known worldwide for equipment that incorporates cutting edge technology, designed for efficiency, and solves problems other engineers hadn't even considered yet. A company that lives the Industry 4.0 world and puts it into practice in every step of the process.