November U.S. cutting tool consumption totaled $153.7 million, according to the U.S. Cutting Tool Institute (USCTI) and AMT - The Association For Manufacturing Technology.
Records 46 to 46 of 46
Featured Product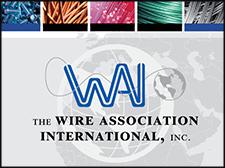 Today Industry 4.0 captures the imagination of wire makers. It introduces change. Automation, robotics, and data analytics affect the way wire is made and how well companies compete on the world stage. You are invited to explore the possibilities at The Wire Association's Virtual Industry 4.0 conference, Oct. 26-27, 2021. Hear from the machinery makers and software suppliers who can help you realize your goals. Learn what these changes mean for your plant and personnel. And find out what is imminent and what is already here to stay.