The Future of Injection Molding Relies on Automation
Automated injection molding can improve product quality, increase throughput and reduce employee turnover. While demand for injection molding products grows, manufacturers are grappling with persistent challenges, particularly staffing and output.
Automation is emerging as the key to resolving these issues and transforming the industry. How are manufacturers applying automation in injection molding today?
Why Automation Is Essential For Injection Molding
The injection molding industry is at a turning point today. Demand for injection molding is skyrocketing, with the global market expected to be worth over $419 billion by 2030. Unfortunately, as demand increases, manufacturers are struggling to keep up.
Persistent labor shortages and a growing technical skills gap can limit injection molding companies' productivity. Employee turnover is commonly an issue due to the safety hazards of handling high-temperature injection molding equipment and parts. Hands-on employee tasks can also contribute to inconsistent cycle times and lower output.
Retaining staff members and meeting increasing throughput goals requires a new approach to the injection molding process. Automation is emerging as the clear solution to these challenges. It can significantly improve safety, increase efficiency, reduce defects and more.
Automated Injection Molding in Action
The most popular and effective automation strategy is connecting machine-tending robots to injection molding equipment. The robot takes on the close-contact tasks an employee would conventionally perform. Robots are either remotely operated or fully autonomous.
Automating injection molding using robotic machine-tenders often resolves manufacturers' productivity challenges and then some. Manufacturers can commonly exceed their previous maximum throughput while also providing a better experience for employees.
Case Study — ICON Injection Molding
Phoenix, Arizona-based ICON Injection Molding was facing many of the industry's most pressing challenges: unsafe work, long lead times, high costs and low output. They resolved these issues by collaborating with automation provider Formic.
Formic supplied ICON with a customized six-axis robotic arm to tend their injection molding machines. Adopting the robot resulted in 30% faster cycle times, 24/7 operation and increased employee satisfaction. ICON's QC personnel also reported more consistent quality from one unit to another.
ICON's case is a great example of how automation can support employee success. Some injection molding companies may be concerned about adopting automation because they are worried it will result in fewer available jobs for their team.
However, most machine-tending robots today require some amount of remote operation. Maximizing the value and effectiveness of automated cells requires some amount of orientation for employees. Research shows that basic operations and maintenance training is one of the best tactics for reducing downtime with any piece of machinery.
What makes automated injection molding systems stand out is their ease of use. The robots' controls, programming and UI are all designed to be as user-friendly as possible. So, employee orientation is quick, easy and, most importantly, safe. This means adopting robotics can make manufacturing jobs more accessible in addition to being safer.
Case Study — KC Robotics
Formic is not the only automation provider partnering with injection molding companies. Ohio-based developer KC Robotics helped one of their clients solve some of the same challenges ICON Injection Molding was facing.
This case had the unique challenge of limited floor space. The client needed a safer, more efficient way to transfer units from their presses to the cooling racks. KC Robotics designed a compact two-robot system to fill this need.
The robotic cell resulted in shorter cycle times and higher efficiency. KC Robotics also provided training services to help their client's employees learn the user-friendly interface for the robots. The client reported increased product quality and employee satisfaction as a result.
Challenges of Automation
Automation is an exciting development for the injection molding industry, but it's not without challenges. The main speed bumps are employee training and repeatability. Manufacturers can usually resolve training concerns by selecting a robot with a user-friendly interface. Many robotics developers even offer training assistance.
However, manufacturers may need more creativity to address repeatability issues. Defects like flow lines, burn marks and warping have always been concerns in injection molding. Robots can help minimize these quality issues with the right end-of-arm tooling (EOAT).
3D printing may hold the solution. Injection molding professional Richard Savage was struggling to eliminate defects with his robotic cell. He used 3D printing to create a fully customized EOAT unit designed for his robot, machinery and products.
With 3D printing, Savage's EOAT was 40% lighter and more affordable than a conventionally-made alternative. It allowed him to resolve his system's quality issues and maximize his ROI.
Robots and Next-Gen Injection Molding
There's no doubt injection molding is a vital part of modern-day manufacturing. As demand skyrockets, manufacturers need innovative solutions to evolve their operations. Automation is the key to taking injection molding to the next level.
Comments (1)
Fantastic insights on Injection Molding! Your post provides a comprehensive overview that will undoubtedly be valuable to both seasoned professionals and those new to the field. The attention to detail and clarity in your explanations make it a standout resource. Looking forward to more informative content like this in the future!
Post A Comment
You must be logged in before you can post a comment. Login now.
Featured Product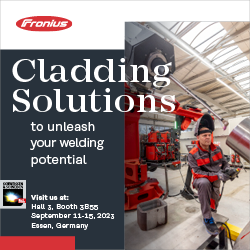 Ever since the invention of our "cold" MAG welding process Cold Metal Transfer (CMT), if not earlier, we have continuously achieved a technological edge in many welding-related areas, resulting in cutting-edge mechanized and automated welding systems. Advanced power source technology stabilizes the arc and ensures perfect welding results. Modern monitoring sensors optimize guidance of the welding torch and compensate for component tolerances. Last but not least, smart data documentation systems assist in perfecting the welding process. Collaborative systems, smart sensor technology, software solutions for data management, and offline programming including welding simulation open up profitable welding opportunities for metal processing companies starting with a single batch. That is why our robotic welding cells prove profitable not only for large companies, but also for small and medium-sized enterprises.