Mini factories in containers help reduce mask shortages
Disposable protective nasal-and-mouth masks are in short supply, but a manufacturing system from Swiss company Mikron could put masks within everyone's reach. This scalable system produces 50-100 face masks per minute, depending on the version. With engineering support from Festo, Mikron developed the system in just six weeks.
Mini factories in containers
The beauty of Mikron's system is that it fits in a 20-foot shipping container, which can also act as a clean room. The factory in a box could be located in front of a hospital, next to a shopping center, or near a school. The integrated air-conditioning system with air purification filters makes production possible even in places with high risk of viral contamination. With adequate raw materials, the system can operate autonomously for more than two hours.
"This reduces the number of people required to operate the system, and as a result, lowers the risk of infection," explains Nils Rödel, General Manager of Mikron Berlin. "The mini factory can produce protective masks in remote areas or even in crisis zones where meeting hygiene standards is most challenging."
It would be possible to produce two million protective mouth-nose masks each month with just one system. The masks are based on meltblown non-woven fabric, which consists of many layers of fine fibers and thus filter out even the smallest particles such as bacteria and viruses from the air.
"Using official statistics, we calculated that medical personnel in Germany alone need at least 50 million disposable protective mouth-nose masks per month," reports Rödel. "We could meet this demand with 25 containers."
Eliminating the need for transport makes the end product less costly. The system, depending on how it is configured, can make packs of ten masks or individual ones, shrink-wrapped for cleanliness, and packaged in printed bags and boxes if required. "Packaging masks involves docking an automated station developed by pi4_robotics GmbH, Berlin, a project partner," says Rödel.
Reliable supply of system components
Electric and pneumatic components from Festo ensure the reliable transport, clamping, unwinding, shaping, and folding for the non-woven fabric. An ultrasonic sealing station seals the edges. The servo drives CMMT from Festo for controlling the electric drives EMMT are used in the application, because they can be easily connected to PLCs from major manufacturers, including Beckhoff, Siemens, and Rockwell.
The pneumatic components from the Festo core product range installed in the system, such as the compact cylinder ADN, the guided drive DFM, and the round cylinder DSNU, are in stock worldwide and available for shipment within 24 hours. Global availability enables quick and reliable manufacture of systems for producing masks within a condensed timeframe. The pneumatic drives are actuated by MPA valves. The safety valve MS6-SV-E ensures that safety-critical system components are exhausted and de-energized as quickly as possible in the event of a sudden emergency stop.
Thanks to its international production and sales network, products from Festo are quickly available in 176 countries and enable systems to be built at locations around the world. This is entirely in keeping with the global open-source approach of Project CAROLA, which provided the impetus for designing the mask production system in a shipping container.
Independent, decentralized, and virtual
"The current travel restrictions make it extremely difficult for commissioning technicians to go where the systems are to be built," says Rödel. "Mikron came up with a digitized solution. We use Microsoft HoloLens, which enables commissioning to be done virtually using an interactive 3D projection."
For more information visit http://www.mikron.com. Go to http://www.festo.us for the full range of Festo products and service offerings. The Festo general information number is 800-993-3786.
Comments (0)
This post does not have any comments. Be the first to leave a comment below.
---
Post A Comment
You must be logged in before you can post a comment. Login now.
Featured Product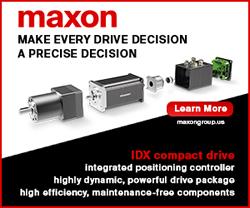 The compact brushless EC-i motor combined with an EPOS4 positioning controller delivers a highly dynamic, powerful drive package with field-oriented control (FOC), high efficiency, and maintenance-free components in a high-quality industrial housing. The maxon IDX drives are suitable for use across the entire speed range (from standstill to maximum speed) and have an extremely high overload capability. Together with a positioning controller, the integrated sensor (single turn) enables absolute positioning.