MICRO-MOLDING: KEY SUPPLIER SELECTON CRITERIA
For companies that are exploring the possibilities that exist for miniaturization of plastic parts and components, there are some seemingly daunting obstacles that exist, not least the vagaries of the micro molding process itself.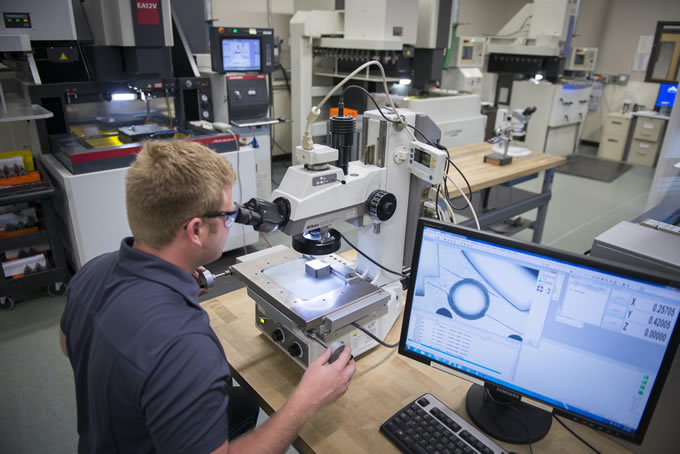 Molding at the micro scale renders redundant many of the "rules" associated with macro molding, and the process requires a completely new perspective in terms of such considerations as rheology, tooling, gating, and handling and assembly to name but a few. Because of this, most OEMs that embark on a micro molding product development process engage with specialist micro molding experts that can navigate inherent issues, and through experience have honed the art of micro molding to optimise manufacturing outcomes.
However, not all micro molding companies are the same, and it is important to ensure that when short-listing your preferred suppliers, the correct questions are asked. Supplier selection is vital to ensure success in your micro product development endeavours, and this article will provide a guide to the questions to ask, and the answers to look out for.
JOB SHOP VS PRODUCT DEVELOPMENT PARTNER
It is perfectly acceptable when molding larger-scale and non-critical components to treat your chosen sub-contract molder as a job shop. You provide your files, receive a quote, press go, and your parts are delivered. Job done!
This should not ever be the case when choosing a micro molder. Here the emphasis must be on establishing a relationship that sees your chosen molder as a strategic partner in product development, and as such they should work with you from product inception through to ultimate mass manufacture, you and the micro molder sharing intelligence and collaborating to ensure timely, cost-effective and — above all else — accurate outcomes.
As such, you should interrogate your short-listed micro molder as to the ways that they work, analyse how transparent their processes are, and how much emphasis they place upon a truly collaborative relationship. The acid test here is not just how important this level of customer engagement is but also how obvious it is that the different departments within the micro molder's facility are also working together. Knitting together an effective product development process requires that design, tooling, molding, validation, and assembly teams are all involved early and together.
Your chosen micro molder should have a solutions-oriented focus, and a demonstrable reputation in the various industry sectors for high quality, timely, and cost-effective results.
VERTICAL INTEGRATION
Vertical integration is of huge importance when it comes to selecting a micro molding partner. When you are working on product development projects where you need to think about the attainment of micron tolerances, the risk associated with outsourcing any part of the design to manufacturing process is too great. True vertical integration exhibits the ability to be able to support and control a product development program from end-to-end, control being central to success, as it removes the headaches of dealing with multiple vendors, and streamlines the entire product development process.
So saying, it is vital to check that your chosen micro molding partner really has all aspects of the product development process in-house, and the only sure fire way of knowing this is to visit facilities and see for yourselves.
Design and Material Assistance. A key area that needs to be covered by any micro molding partner is their ability to provide design and material assistance. Design for micro molding is absolutely critical, and your chosen micro molding expert should be able to intervene and optimise your design to ensure successful manufacturing outcomes. Without this ability, and without the ability to be able to advise as to the best materials for any given application, there is an increased chance that time and money will be lost due to the need for design re-iterations, and even more seriously the need to adapt hard tooling.
The key when embarking on a micro molding project is to ensure that the design and the material used will work throughout the entire product development process, and your micro molding partner should be able to ensure this, and also to enhance the innovative nature of your molded parts by intelligent design input in the early stages of product development.
Micro Tool Fabrication. Next, your micro molder needs to have the in-house ability to fabricate micro tools. Micro tooling is arguably the key enabling technology for any micro molding project, and here you need to work with a molder that has years of experience and has the necessary infrastructure to develop the required tool for your application. Outsourcing the production of micro tools can have a huge impact on the viability of a micro molding project, as even the smallest slip in tolerances can have a huge impact on the attainment of exacting micron-level requirements in the finished part. As a customer, this is an area to focus on, and you need to see that your chosen micro molder can demonstrate that in-house they can achieve the necessary micron-level tolerances when cutting steel.
Micro Molding. It seems obvious that a micro molder should be able to demonstrate their ability to mold, but here again the drivers behind success are experience and the molding machines available in-house to undertake the production. You need to locate a micro molder that can demonstrate a long track record of molding to micro tolerances. As we have said before, molding at this scale has its own set of rules and difficulties that can only be understood and navigated by a micro molding company that has the right pedigree.
Also, it is important to get a feel for the micro molding machines that are at the disposal of your chosen partner. Most micro molders buy in micro molding machines from third party suppliers, and while these are usually top-end solutions, unadapted, they all have various drawbacks and limitations. You will see that to overcome these issues, forward-looking and experienced micro molders think outside the box and develop their own micro molding machine solutions, which can achieve greater tolerances and throughput than off-the-shelf alternatives. It is certainly worth asking your chosen supplier to demonstrate the capabilities they have in this area.
Validation. Everyone no doubt aware aware of the homily, "if you can't measure it, you can't make it." In fact this is not strictly true, because you can of course make it, but if you have the inability to measure it accurately then you have zero chance of proving design intent. With this in mind, your chosen micro molder must be able to demonstrate a suite of top-end metrology solutions that can validate the design intent of your product. Having this facility in-house is also of vital concern, as even the change of environment from production facility to measuring facility can introduce changes in micro part geometry (maybe due to humidity and other variables) which will render validation protocols useless. In house metrology also needs to be seen in process as well as in the lab to ensure production efficiency.
Automated Assembly. Finally, make sure that your micro molding partner has the capacity and ability to provide customized automated assembly in-house. When looking at the handling issues inherent with micro plastics parts, manual assembly is either impossible of hugely costly and time-consuming. Your chosen micro molder must be able to demonstrate an understanding of — and experience in — the art and science of micro assembly, with a focus on minimising the level of handling, as at each stage tolerances can be affected.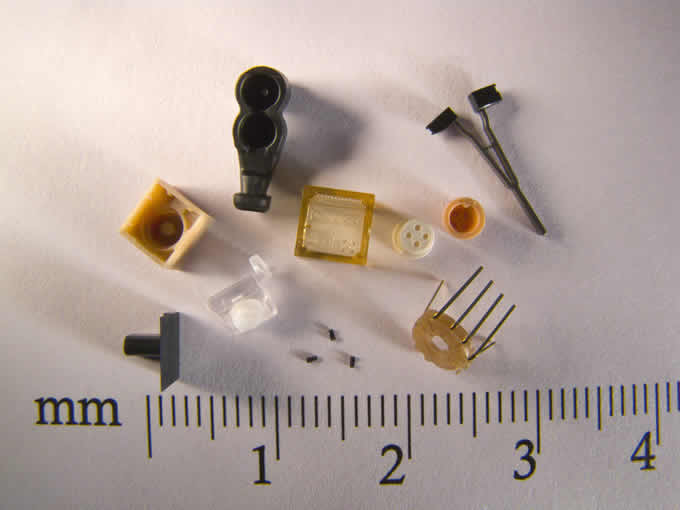 SIZE AND LONGEVITY
Moving on from the in-house capabilities that a micro molding partner must be able to demonstrate, it is also important to get a feel for the scale of the molding facilities and the length of time that your molder has worked at the ultra-precision end of molding.
It may sound counter-intuitive to say size matters when assessing a molder that is aiming to reduce the size of your plastic parts and components, but there will come a time when you need to scale up to high volume mass manufacture, so you need to locate a micro molding partner that has the physical space and infrastructure in place to cater for you medium- and long-term needs. Consider this when you visit the facilities of your chosen micro molder. Do they have the physical space and infrastructure to develop a manufacturing cell for you that can produce multi-millions of parts?
Also, there is no substitute for experience, and this comes through a long association with micro molding and micro product development. True precision micro molding, really being able to make tiny products or larger products with micron features has only really been possible as we understand it today since the 1980s. On that basis, err towards a company that can show you at least three decade of experience in the niche, rather than one with a handful of years under their belt.
CERTIFICATION
Many end use micro molded products end up in safety critical applications, and so it is important (and sometimes vital) to be able to show that the product development process and manufacture of the relevant parts and components were undertaken with a micro molding partner that can demonstrate adherence to the necessary standards such as ISO 13485, ISO 9001 and ISO 14001. Just ask for reassurance here before going too far down the supplier selection road, as this could be a deal breaker.
SUMMARY
Not all micro molders are the same, even if their customer-facing profiles look the same. Micro molding projects are often highly strategic, highly complex, and also expensive, so it is vital that you take a proper look under the hood of your short-listed supplier before committing one way or the other. Only through careful supplier selection can you ensure that you are working with a micro molding partner that has the capabilities and values you need to ensure optimal manufacturing outcomes.
Aaron Johnson is the VP of Marketing and Customer Strategy at Accumold. The company has grown to a 130,000 square foot fortified facility designed for assurance of supply, employs over 350 staff, and is a net exporter shipping all over the world every day from its Ankeny, IA, USA facility which runs 24 hours a day, 7 days a week.
Comments (0)
This post does not have any comments. Be the first to leave a comment below.
---
Post A Comment
You must be logged in before you can post a comment. Login now.
Featured Product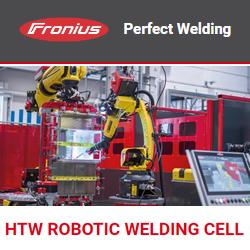 We aspire to produce more than just welding systems, which is why we are the innovation leader for arc welding and are constantly developing welding processes further. In addition to welding technology for robot applications, we offer solutions for manual gas shielded arc welding, for MIG/MAG, TIG, and MMA welding processes. We also implement automated, complete welding solutions tailored to customer requirements in the field of welding automation. After all, welding creates connections - between metals, between industries, and between people. Connected by the arc, by passion, by the beat of welding.