Advance the Manufacturing of Tomorrow by Investing in the Workforce of Today

Contributed by Kylene Zenk, director, manufacturing practice, Kronos
There are a number of dynamics influencing what the future of work will look like in manufacturing. The industry is currently facing a talent shortage for skilled production roles while the newest generation of workers don't view manufacturing as an attractive career option based on misconceptions about the industry. Meanwhile, 27% of the current manufacturing workforce is 55 or older, meaning more than a quarter of the knowledge base will soon be exiting the industry due to retirement.
If manufacturers don't find a way to develop the current workforce and arm employees with the skills needed to work in modern manufacturing plants, it's anticipated that more than two million jobs will go unfilled. This could inevitably lead to heightened burnout and turnover as workers seek employment in other, more "attractive" industries, not to mention the devasting impact on the ability to achieve production targets and profit goals.
By harnessing the right combination of people, technology, and culture, manufacturers can dramatically improve the current employee experience with an eye on the future of the industry.
Emphasize training and development in every corner of the business.
It's been shown time and time again that employees feel more confident and engaged when they understand how their work connects to the overall company strategy. Unfortunately, many manufacturers overlook the importance of educating frontline employees on this connection, as well as providing performance management and development programs, yet these employees desperately crave feedback and the opportunity to learn new skills — and will move to a company that offers them.
In addition to offering skills and leadership training, manufacturers should consider developing mentorship programs to transfer knowledge from experienced workers to younger employees. It's also critical that frontline managers spend time to connect with employees to understand their career goals and provide guidance on the steps it will take to get them where they want to go.
And don't forget to tap into intelligent data insights from workforce management and human capital management technology to develop the workforce. For example, performance management data can identify high-potential employees, enabling people managers to upskill or cross-train them to fill critical positions and help them on the path to reaching their career goals.
Get involved in the community, both locally and worldwide.
Don't confine education to the four walls of the plant: Invest in community events, such as Manufacturing Day, that not only reach and inspire the next generation, but support the professional development of the current multigenerational workforce. Organizations such as Women in Manufacturing are leading the charge in empowering industry workers of all levels and across all regions, offering networking meet-ups, local chapter events, and nationwide summits to support the manufacturing community. Partnering with these trade associations gives manufacturers an opportunity to invest in their current workforce by expanding professional development opportunities and leveraging industry resources and networks.
Additional ideas for community involvement include sponsoring STEM activities in local schools or community classes, hosting a "Take Your Kids to Work Day" to increase site visits and walk others through a day-in-the-life of a manufacturer, or participating in the national Manufacturing Day celebration to kickstart understanding of and enthusiasm for the industry from a young age.
Build an inspiring culture to reduce turnover and boost employee engagement.
Manufacturing leadership must look inward to ensure business strategy and culture align to prepare for the future of work. ​With nearly half (40%) of manufacturers experiencing greater than 20% annual turnover, now more than ever, it's critical to focus on the engagement and retention of the talent they already have.
​​
The addition of advanced, employee-facing mobile technology can be game-changing for manufacturers looking to alleviate administrative burden and enhance work-life balance. Employees deserve to enjoy their lives outside of work — this is made much easier with the ability to swap shifts, review HR information, and check time-off balances, all from the palm of their hand.
​
Ultimately, investments in employees and the technologies that enable them aren't just nice to have: There are numerous financial benefits of strong cultures of engagement, including higher retention, greater productivity, and improved profitability.
By leveraging a combination of programs, policies, and technologies designed to support the modern manufacturing workforce, employers can develop a people-centric strategy to keep them thriving well into the future of manufacturing.
Kylene Zenk, director, manufacturing practice, Kronos Incorporated
Kylene Zenk is responsible for leading and executing go-to-market strategy for the manufacturing
practice at Kronos Incorporated, a global provider of workforce management and human capital management (HCM) software solutions. A thought leader on topics surrounding digital transformation and workforce engagement, Zenk regularly speaks at industry leadership conferences.
Since joining Kronos in 2007, Zenk has focused on tracking and identifying the industry trends that shape the future of work for manufacturing organizations worldwide. She works with manufacturers to showcase how effective labor management can boost employee engagement and improve organizational performance. Zenk aligns closely with sales, services, product development, and customer success teams in order to achieve collective sales growth and meet customer satisfaction goals in her sector. She additionally serves as the lead of the Kronos Marketing Volunteer Committee.
Prior to joining Kronos, Zenk served in marketing, operations, and sales training roles at Capital One Financial Corporation. Zenk earned a bachelor's degree in political science and a master's degree in business administration from University of Massachusetts Amherst. In addition to her work at Kronos, Zenk is an active member of the Association for Manufacturing Excellence (AME), the National Association of Manufacturers (NAM), and Women in Manufacturing (WiM), as well as the Society for Human Resource Management (SHRM).
Learn how Kronos empowers manufacturing organizations worldwide to attract, retain, and develop fully engaged employees who deliver better business outcomes at www.kronos.com/industry-solutions/manufacturing.
Comments (0)
This post does not have any comments. Be the first to leave a comment below.
---
Post A Comment
You must be logged in before you can post a comment. Login now.
Featured Product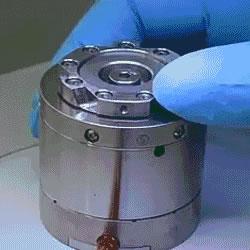 PI provides standard and custom linear, rotary, and spherical air bearing systems. They are available with 3-phase motors or voice coil motors, integral optical linear encoders. Our air bearings / and systems serve OEM, industrial, and research markets.