Onshape Teams Up with Magic Leap for New Spatial Computing CAD App
Onshape, the leading 3D cloud CAD system, is partnering with Magic Leap on a new 3D product design app for its spatial computing universe. The new CAD app will be developed for the Magic Leap One Creator Edition, a lightweight, wearable computer that allows digital content to step out of the screen and into the real world.
Onshape CEO Jon Hirschtick will be previewing "Onshape for Magic Leap" today at the L.E.A.P. Conference in Los Angeles. Magic Leap is streaming its keynote addresses live, beginning at 9 a.m. PDT at http://www.magicleap.com/LEAPcon.
When wearing Magic Leap's Lightwear headset, which allows users to see contextually aware digital objects in the real world, engineers will be able to bring life-size 3D CAD models into their physical surroundings and collaborate on design changes.
"We're excited to bring the many benefits of modern CAD to engineers in the Magicverse," says Onshape CEO Jon Hirschtick. "For more than a half-century, CAD users were confined to working on a flat screen. The Magic Leap One will push product design into a whole new stratosphere."
"Imagine your engineering team is reviewing the latest design for a race car. With the ML One, they will be able to put that car right on the conference table, go under the hood and examine the engine block. They can then levitate the car above their heads and check out the exhaust system," he says.
"The spatial computing universe has the potential to transform every industry," says Magic Leap CEO Rony Abovitz. "Along with our other development partners, Onshape is helping us discover new applications and markets for Magic Leap One. I look forward to helping them continue to shake up the world of design and manufacturing."
"The new Onshape app will support live 3D editing of CAD models, with design changes updated in real time through the Magic Leap device," notes Hirschtick. "This is far more powerful and impactful than being able to merely view static, already-completed designs. And using our modern CAD system's real-time collaboration tools, even team members based in different parts of the world will instantly see each other's updates."
"Offering Onshape's cloud CAD system through the rich, immersive view of Magic Leap will one day seem as natural as designing on laptops, phones and tablets," he adds. "We're proud to be ahead of the curve by giving engineers access to the latest tools they can't find anywhere else, tools that will help them push their creative limits, and ultimately design better products."
To arrange for a media demo of "Onshape for Magic Leap," contact dgarnick (at) onshape (dot) com.
About Onshape
Onshape is a modern CAD system that eliminates design gridlock: the constant waiting, distractions, and hassles that prevent engineers from doing their best work. Onshape unites advanced modeling tools and design data management in a secure cloud workspace that is accessible on any device and never loses data. With no files to lose or corrupt, no license keys to manage, and no installed desktop software, Onshape helps engineering teams get out of the IT business so they can get back in the innovation business.
Professional engineers at thousands of companies rely on Onshape to modernize and streamline their product design and manufacturing process. Onshape users in 170+ countries have logged over 5 million hours modeling advanced robotics, biomedical devices, industrial machinery, agriculture equipment, and consumer products. With 1 of 8 sessions occurring on mobile devices, Onshape is the world's first anywhere, anytime CAD system.
Founded in 2012, Onshape has raised $169 million from Andreessen Horowitz, NEA, North Bridge, and other leading investors. Based in Cambridge, Massachusetts, the Onshape leadership team includes the original creators of SOLIDWORKS® and other proven leaders in cloud infrastructure, data security, and mobile. For more information, contact dgarnick (at) onshape (dot) com or visit onshape.com/press-room.
Comments (0)
This post does not have any comments. Be the first to leave a comment below.
---
Post A Comment
You must be logged in before you can post a comment. Login now.
Featured Product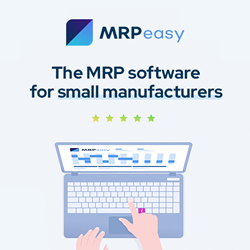 Always know what you have in stock and what you'll need to fulfill orders. Never forget to order parts on time or fail to notice a late delivery from your vendor. Easily create manufacturing orders and schedule them automatically according to resource availability or delivery deadline. Generate accurate cost and lead time estimates and provide customers with quick quotes. Receive notifications when orders are late or inventory levels reach a critical point. Ensure seamless communication between sales, production, warehousing, procurement, administration, and finance. Integrate with popular accounting, CRM, and e-commerce apps. MRPeasy is an ERP software for small manufacturers that gives you all that and more. Our users report a 54% average improvement in the overall performance of their business and a 42% increase in on-time deliveries. Try for free, no credit card needed.