40% of Small Manufacturers Likely to Hire this Year
Xometry, the largest on-demand manufacturing platform, today released the findings of its quarterly Small Manufacturing Index, showing that 40% of small manufacturers surveyed are likely to hire more employees this year as business confidence has risen from a year ago. Xometry partner manufacturers were even more likely to add employees with 47% reporting that they will hire this year. Additionally, 28% of those surveyed stated they have hired more employees since Q1 2017.
The majority of small manufacturers in the US are more optimistic about the market in the near future than they were a year ago. 60% of small manufacturers surveyed said that their business would either mildly or strongly increase this month vs. the same month last year. Xometry partner manufacturers were even more optimistic, with 34% of those surveyed expecting a strong increase in business vs 14% for non-network manufacturers.
"We're pleased to see the continued growth in confidence and hiring among small manufacturers," said Laurence Zuriff, Xometry co-founder and CFO. "We're particularly happy to see that our manufacturing partners are reporting an above average confidence toward their hiring plans."
The quarterly index, which takes the pulse of small to mid-size manufacturing shops, asked manufacturers both inside and outside Xometry's partner network whether they expected to see growth in business and hiring compared to previous months and years. These small to mid-size manufacturers represent more than 190,000 companies in an over $50 billion market.
About Xometry
Xometry is driving the business of American manufacturing through a proprietary software platform which offers on-demand manufacturing to a diverse customer base, ranging from startups to Fortune 100 companies. It provides product designers and engineers the most efficient way to source high-quality custom parts, with 24/7 access to instant pricing, expected lead time and manufacturability feedback. Our nationwide network of over 1,000 partner manufacturing facilities enables us to maintain consistently fast lead times while offering a broad array of capabilities, including CNC Machining, 3D Printing, Sheet Metal Fabrication, Injection Molding and Urethane Casting. Xometry has over 9,000 customers, including BMW, General Electric and NASA.
About the Small Manufacturing Index
The Small Manufacturing Index, released quarterly by Xometry, takes the pulse of American custom manufacturing by analyzing and quantifying the performance of small to mid-size manufacturers. The index is developed through a survey that asks members whether they expect to see growth and hiring in business plans compared to previous months and prior years. The survey is drawn from Xometry's partner network of over 1,000 small to mid-size manufacturers as well as from out-of-network manufacturers with fewer than 50 employees. The index aims to highlight trends over time to provide analysis and predictions on the national outlook for small to mid-size manufacturers.
Comments (0)
This post does not have any comments. Be the first to leave a comment below.
---
Post A Comment
You must be logged in before you can post a comment. Login now.
Featured Product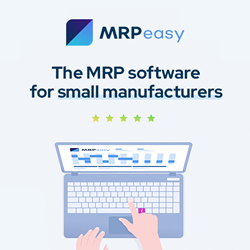 Always know what you have in stock and what you'll need to fulfill orders. Never forget to order parts on time or fail to notice a late delivery from your vendor. Easily create manufacturing orders and schedule them automatically according to resource availability or delivery deadline. Generate accurate cost and lead time estimates and provide customers with quick quotes. Receive notifications when orders are late or inventory levels reach a critical point. Ensure seamless communication between sales, production, warehousing, procurement, administration, and finance. Integrate with popular accounting, CRM, and e-commerce apps. MRPeasy is an ERP software for small manufacturers that gives you all that and more. Our users report a 54% average improvement in the overall performance of their business and a 42% increase in on-time deliveries. Try for free, no credit card needed.