LINK3D Launches Largest Platform To Connect Engineers With Global Additive Manufacturing Services
Link3d: After 2 years of research and development, LINK3D; the first global, secure platform that instantly connects engineers to additive manufacturing service providers, is now available to the entire additive manufacturing industry. LINK3D's proprietary technology provides engineers with a fully automated request-for-quote (RFQ) process to identify vetted additive manufacturing partners from around the world. The LINK3D user base is comprised of companies that need to address manufacturing needs from prototyping through series production. The exhaustive efforts of the LINK3D team have culminated in the creation of the world's largest network of machine and material representation, guaranteeing an RFQ will connect with qualified manufacturers 100% of the time.
The 2016 edition of the Wohlers Report revealed that, for the second year in a row, the Additive Manufacturing industry has grown by more than 1 billion dollars. With such tremendous growth, there is a crucial need to have access to the right partners when designing and manufacturing additively made parts. LINK3D allows for these connections to be made, utilizing intelligent, data-driven algorithms and focuses on industries including: Aerospace, Automotive, Medical, Consumer Goods, Defense and Electronics.
The LINK3D team is comprised of several additive experts who have built and maintained global partnerships with 3D printing service providers in more than 20 countries - giving engineers access to 234+ unique metal & polymer materials and 154 unique machine models.
LINK3D CEO, Shane Fox explains, "Our mission is to make additive manufacturing accessible to anyone, anywhere, at any time. We serve a diverse group of industries, focused on metal and polymer production." CTO Vishal Singh added, "LINK3D will fuel the 'Industrial Revolution 4.0', so to speak, by making additive manufacturing accessible to all businesses."
"As an engineer in the Additive Manufacturing industry, one of the biggest challenges is to find the right partners to produce your designs," explains Gavi Feuer, PhD - Biomedical Engineer. "LINK3D is a truly unique tool that reduces my search time, increases my selection parameters and adds confidence to my final decision-making process regarding pricing when I choose the appropriate manufacturing partner. It is a remarkable product and long overdue." Gavi Feuer, PhD - Biomedical Engineer.
Comments (0)
This post does not have any comments. Be the first to leave a comment below.
---
Post A Comment
You must be logged in before you can post a comment. Login now.
Featured Product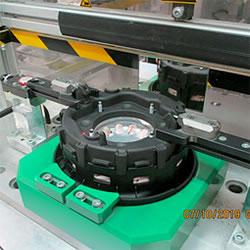 Windform FR2 is new glass-fiber reinforced + flame retardant composite material for 3D printing by CRP Technology. It is electrically insulating, FAR 25.853 compliant, white colored, with significant mechanical properties. It is halogen free and combines outstanding wear resistance and good temperature resistance. Owing to its flame-retardant quality and insulating properties, Windform FR2 is suitable for harshest applications.