Epicor ERP helps businesses leverage data streams for growth
Pioneer of collaborative robots introduces SnapWeld Collaborative Robotic Welding, featuring seamless hardware and software integration through the Universal Robots+ product platform
FABTECH 2017 returns to Chicagos McCormick Place Nov. 6-9, packed with a schedule of live product demonstrations, inspiring presentations, education sessions, networking opportunities and more to give attendees an all-access pass to the hottest industry trends and innovations.
OEM Fabricating Panel to Share "Ah-Ha" Moments From Their Lean Experience
Bihler of America, a complex components manufacturing and automation innovator, will showcase its highly successful 4 Slide-NC at FABTECH 2017, McCormick Place, Chicago, IL, November 6-9, Booth A-5253.
Axia80 Provides High Resolution with Outstanding Overload Protection
Packaged Downflo® Evolution is a Turnkey System for Metal Fabricators, Other Industries
Mitchell Metal Products was selected after using reshoring to complete more end products with less lead time. In 2016, the company manufactured a cultivator handle subassembly product, increasing the production volume from 4,500 made overseas to 30,000 made in Wisconsin.
FABx Tech Talks feature messages about transformation, growth and the future of manufacturing
With LAUNCH, Beckwood's exclusive virtual press design technology, Fabtech attendees can bring their machinery ideas to life on the show floor and leave with a concept drawing to share with their internal stakeholders.
Records 1 to 10 of 10
Featured Product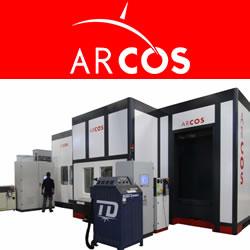 Robotized system for grinding and cutting with discs and the precision cutting with plasma technology of aeronautic parts. This Robotized system is produced for the finishing of aeronautic parts. This machine utilizes the grinding and cutting with a Ø1000mm disc. It is also allowing the precision cutting with plasma technology. Approved 3M Robotics System Integrator.