Axia80 Provides High Resolution with Outstanding Overload Protection
APEX, N.C. October 3, 2017 - "There's been a movement in the industry to start automating man-made products," explains Robert Little, CEO of ATI Industrial Automation. "In order to for them do that, they need robots. In order for those robots to be completely successful, they need force sensing feedback."

ATI has unveiled the newest offering in their Force/Torque Sensor product line: the Axia80. Like all of ATIs Force/Torque Sensors, the Axia80 measures all six components of force and torque. The monolithic instrumented transducer also features silicon strain gauges that reduce noise, enable high stiffness, and provide overload protection five to twenty times over the sensing range. The Axia80 is programmed with two different calibrations that the operator can switch between while the application is running. The default calibration allows for a large sensing range during high-speed moves or while applying high force. The smaller calibration suits more delicate processes that require higher resolution and accuracy.
All the electronics are built into the transducer body, and the sensor connects directly to the robot controller. This keeps the units cost down and footprint smaller, without sacrificing accuracy, resolution, or robustness. The Axia80 communicates through EtherCAT or Ethernet and is ideal for robotic assembly, grinding, and polishing applications.
About ATI Automation
ATI Industrial Automation is the worlds leading engineering-based developer of robotic accessories and robot arm tooling including Robotic Tool Changers, Multi-Axis Force/Torque Sensing Systems, Utility Couplers, Manual Tool Changers, Robotic Deburring Tools, Robotic Collision Sensors and Compliance Devices. Their robotic end-effector products are found in thousands of applications around the world. Manufactured entirely in the USA, ATI products enable customers to achieve a high level of flexibility in robotic automation. Their flagship product is the Robotic Tool Changer, a robotic wrist coupling that locks and unlocks automatically, allowing a single robot to perform many different tasks. ATI products can be found at some of the worlds most renowned corporations and organizations including NASA, Ford, Honda and Johns Hopkins University. For more information, visit ATI at: www.ati-ia.com.
Featured Product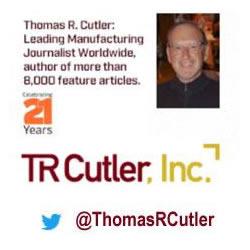 Cutler has authored more than 8000 articles for a wide range of manufacturing periodicals, industrial publications, and business journals including most of the leading monthly trade publications.