ManufacturingTomorrow Newsletter - June 1/16
Symmetric Multiprocessing or Virtualization: Maximizing the Value and Power of a Soft-Control Architecture

ManufacturingTomorrow Newsletter - June 1/16
Featured Articles
For a truly simplified and streamlined architecture that is high-performing, scalable, efficient. and built for long-term value, an SMP-enabled Soft-Control Architecture is recommended.
RAPID 2016 will be held from May 17th - 19th in Orlanda, FL. This ManufacturingTomorrow.com Special Tradeshow report aims to bring you news, articles and products from this years event.
An Enterprise Content Management (ECM) system has the ability to reduce "scrap and rework," improve quality, help ensure regulatory compliance, track employee or customer certifications, and increase worker safety.

Story of the Day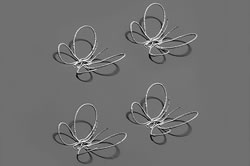 Shalini Saxena for ArsTechnica: Customizable, wearable electronics open the door to things like heart-monitoring t-shirts and health-tracking bracelets. But placing the needed wiring in a complex 3D architecture has been hard to do cheaply. Existing approaches are limited by material requirements and, in the case of 3D writing, slow printing speeds. Recently, a research team at Harvard University developed a new method to rapidly 3D print free-standing, highly conductive, ductile metallic wires.
The new method combines 3D printing with focused infrared lasers that quickly anneal the printed nanoparticles into the desired architecture. The result is a wire with an electrical conductivity that approaches that of bulk silver. Cont'd...

News Headlines
Statement from Gunnar Mey, Department Director, Industrial Solutions, Messe Stuttgart, as part of the opening press conference on 31 May 2016
World Leader in Desktop 3D Printers recognized for sub $300 da Vinci Mini 3D printer, unveils comprehensive, affordable 3D printing ecosystem
Used in combination, the E3S-DC and E3NX-CA can stably detect color marks which are printed on glossy or colorful materials with subtle differences in colors and previously difficult to detect, cutting back on time necessary to start production and do maintenance work, contributing to an overall productivity increase in the packaging process.
What to expect at the IoT Tech Expo in Berlin, 13-14 June 2016:Live demo's, robotics, networking, innovative topics, discussion and more

Featured Product

The CVD driver offers superior performance and value and is ideal for OEM or single axis machines. The CVD is available as a driver only or part of a complete package. The CVD series stepper motor drivers offer: Lowest Vibration and Noise with advanced Microstepping control / Highest torque with Bipolar configuration (4 lead wire) / Small, thin microstepping drive with space saving FETs / Selectable step angle and microstepping filter control / 2 mounting types and connector configurations / Alarms / 24 VDC Input / 0.5A to 4.5A

Featured Company

(Clearwater, Florida, United States of America)
For over 50 years, MICROMO has provided the highest quality, custom micro motion solutions for markets such as medical, aerospace, defense and robotics in North America. Decades ago in Germany, it all started with the FAULHABER coil, the landmark invention by Dr.Fritz Faulhaber. The self-supporting, ironless rotor coil design paved way for a new industry that produces millions of motors today.
ManufacturingTomorrow is a community website where those of you who work in the Advanced Manufacturing and Factory Automation Industries are invited to contribute articles, news and product information for your peers to read and discover. Our philosophy is to create an outlet where the industry can report on itself.
Please help us thank our sponsors and keep this resource free by visiting their websites and telling them you saw their ads at manufacturingtomorrow.com.
Many thanks for your continuing support.
Bob Hetherington bobh@manufacturingtomorrow.com
You are subscribed as email
To unsubscribe or modify your subscription please click the "Manage your subscription" link in the footer of this message to select the content you wish to receive. This information can be updated at any time. Our goal is to provide the information you want when you want it.
We look forward to staying connected.

---
Other Advanced Manufacturing and Factory Automation Resources