• MERLIC 5.4 to be launched on October 25, 2023 • New version of easy-to-use machine vision software easier to integrate into applications • Plug-ins for a REST API and for the Modicon PLC®* from Schneider Electric
Munich, September 19, 2023 - MVTec Software GmbH (www.mvtec.com), a leading international software manufacturer for machine vision, will launch the new version of its easy-to-use machine vision software MERLIC on October 25, 2023. The software is especially suited for machine vision beginners who are looking for powerful machine vision software that can be used to create and solve complete machine vision applications. In version 5.4, the new feature set focuses mostly on easier process integration. Thanks to newly developed plug-ins, MERLIC can now be operated via the popular REST interface as well as controlled by a Schneider Electric Modicon PLC®.

Involving customers in continuing development
MVTec works closely with customers to further develop its machine vision software. This is also the case with the current version, as Dr. Maximilian Lückenhaus, Director Marketing + Business Development at MVTec Software GmbH confirms: "We are pursuing the clear goal of providing the growing market of new machine vision users with easy-to-use software featuring the latest technologies. Achieving this goal means the software must also integrate easily into the process environment. From the customer's perspective, we see a great need in this area, which is why we have integrated various plug-ins for interfaces into the current version. We also appreciate it when customers provide feedback on new technologies. Both sides benefit from this close exchange. In MERLIC 5.4, for instance, more experienced users can explore the potential of "Acquisition Sequences."
REST plug-in for MERLIC
MERLIC 5.4 extends the available MERLIC Communicator plug-ins with a REST plug-in. This interface opens the door to the world of web services. MERLIC users benefit from being able to control the software through this important interface, using a Frontend on the web browser. Furthermore, the results of the machine vision application can also be displayed in a device-independent manner, for example on mobile devices.
Modicon®* plug-in for MERLIC
A new plugin in MERLIC 5.4 allows users to access the Schneider Electric Modicon PLC®. This broadens the range of applications that can be easily integrated with MERLIC. For instance, this integration would enable robots and MERLIC to collaborate directly using a Modicon PLC® that operates on the Modbus protocol.
Acquisition Sequences
MERLIC users regularly have the opportunity to test new developments at an early stage and to contribute to further advancements. In MERLIC 5.4 this is the case with "Acquisition Sequences". This concept feature introduces new possibilities for image acquisition. For instance, when dealing with a poorly lit object, users can now acquire images with both short and long exposure times, which are then merged into a single image. As a result, challenging object characteristics are balanced, resulting in improved visibility of details. Non-streaming devices like lighting can also be utilized within MERLIC using this method.
Enhanced image handling in the MERLIC RTE Setup
In MERLIC 5.4, working with images in the MERLIC RTE Setup has been improved. It is now possible to save acquired images directly to a file. This makes generating image datasets for training deep learning models very easy, for example.
* Modicon® is a registered trademark of Schneider Electric USA, Inc
About MVTec Software GmbH
MVTec is a leading manufacturer of standard software for machine vision. MVTec products are used in all demanding areas of imaging: semiconductor industry, surface inspection, automatic optical inspection systems, quality control, metrology, as well as medicine and surveillance. By providing modern technologies such as 3D vision, deep learning, and embedded vision, software by MVTec also enables new automation solutions for the Industrial Internet of Things aka Industry 4.0. With locations in Germany, the USA, France, and China, as well as an established network of international distributors, MVTec is represented in more than 35 countries worldwide. www.mvtec.com
Featured Product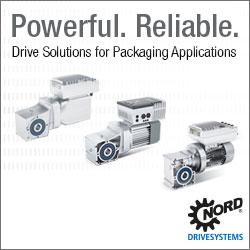 NORD gear units, motors, and electronic control products focus on durability, adaptability, and high efficiency for a wide range of manufacturing applications with over 20,000,000 standard configuration options. Featuring IE5+ PMS motors that can work effectively at partial loads and low speeds thanks to their constant torque and high overload capacity. Their smooth surface and ventilated designs provide ultimate versatility and variant reduction. Combined with surface protection options, such as IP69k or NORD's state-of-the-art nsd tupH Sealed Surface Conversion System, NORD drives are ready to take on the demands of extreme manufacturing environments.