Visit Booth 3805 to learn more about the latest flow and level instrumentation
Beverly, MA: KROHNE, Inc. will showcase a wide range of its industry-leading water and wastewater products, including the latest version of the OPTISONIC 6300 clamp-on ultrasonic flowmeter at WEFTEC 2023, Booth 3805. The Water Environment Federation Technical Exhibition and Conference will be held September 30-October 4, 2023, at McCormick Place in Chicago, Illinois. Also to be showcased are TIDALFLUX 2300, KROHNE's unique flow meter for partially filled pipes; WATERFLUX 3070 water counter with flexible power concept; and a new generation of liquid and solids level measurement products featuring better measurement performance, enhanced software and an improved and more powerful signal processor and the OPTISONIC 7300 ultrasonic meter for biogas applications. KROHNE representatives will be available at the booth to discuss technology, products and applications in detail.

The newest iteration of the KROHNE OPTISONIC 6300, the ultrasonic clamp-on flowmeter for permanent mount installation will be featured. It is particularly suitable for flow measurement of liquids at any location where inline measurement is not possible or desirable. The flowmeter features new robust stainless steel clamp-on rails which can be very easily attached to virtually any pipe up to 160"diameters with metal straps or with newly available magnetic mounts. All versions come with a wall-mounted or field mounted ultrasonic signal converter.
TIDALFLUX 2300, KROHNE's unique flow meter for partially filled pipes, will also be highlighted. The meter can measure flows in pipes between 10 and 100 percent full and its non-contact sensor is not affected by oils and fats floating on the surface. In addition, TIDALFLUX has a broad diameter range to fit pipes from 8 to 64 inches and has high chemical and abrasion resistance to provide exceptional durability.
The WATERFLUX meter features precise measurement with no need for upstream or downstream piping, has no moving parts, and is maintenance-free. This electromagnetic unit can be powered by a standalone battery or with solar power or even line power. It is a great choice for drinking water applications and ideal where power is unavailable. WATERFLUX is also available with UI1203 or Modbus based network communications as well as optional built in pressure, and temperature measurement within the flow sensor body. The addition of pressure and temperature is very useful for leak detection or district network pressure monitoring.
The OPTISONIC 7300 biogas version is ideal for methane gas applications in wastewater treatment facilities. The 2-beam ultrasonic flowmeter provides excellent long term measurement stability and repeatability. Now Class 1, Div. 1 approved, it delivers high performance over a wide bi-directional flow range of ± 30 m/s (± 90 ft./s) with 1% accuracy. The converter features a variety of measurement diagnostics and available methane content output.
Visitors to the booth can also get a look at the newest radar and guided wave radar (TDR) level measurement devices on the market. Radars such as the OPTIWAVE 7500 (80 GHz) for liquids in narrow vessels with internal obstructions and the OPTIWAVE 6400 (24 GHz) for granulates or rocks and the OPTIWAVE 6500 (80 GHz) for powders and dusty atmospheres will be on display along with OPTIFLEX TDR level devices.
KROHNE's full product line for use in the water and wastewater industry will also be shown at the booth.
About KROHNE
KROHNE is a worldwide technological leader in the development, manufacture and distribution of accurate, reliable and cost-effective measuring instruments for the process industries. KROHNE focuses on forming partnerships with its customers to provide them with the most reliable and innovative solutions available in the marketplace. For more information about KROHNE's complete line of measuring instrumentation for the process industries, contact KROHNE at 1-800-FLOWING (978-535-6060 in MA); fax: (978) 535-1720, email: info@KROHNE.com, Twitter, Facebook, or visit www.us.krohne.com.
Featured Product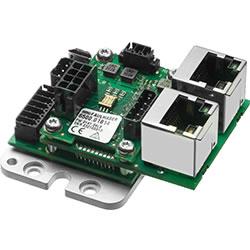 MOTION CONTROLLERS FOR MINIATURE DRIVES AND MICRODRIVES. FAULHABER has added another extremely compact Motion Controller without housing to its product range. The new Motion Controller is ideal for integration in equipment manufacturing and medical technology applications. With 36 V and 3 A (peak current 9 A), it covers the power range up to approx. 100 W and is suitable for DC-motors with encoder, brushless drives or linear motors.