Drawing on the conference's "Exponential IT" theme, Rootstock will discuss how its unified Cloud ERP platform is helping to connect a comprehensive Signal Chain
San Ramon, CA (September 13, 2023) - Rootstock Software will showcase its leading Manufacturing Cloud ERP capabilities at Info-Tech LIVE, which is hosted by the Info-Tech Research Group. This conference will be held September 19-21, 2023, at The Cosmopolitan of Las Vegas. In accordance with the event's "Exponential IT" theme, Rootstock will focus on the transformative power of its Manufacturing Cloud ERP to connect a comprehensive Signal Chain, bringing together dynamic insights on demand, supply, and production.

"We look forward to meeting with manufacturers to discuss how Rootstock Manufacturing ERP can help them adapt during continued market volatility," said Raj Badarinath, Chief Product & Marketing Officer at Rootstock Software. "Manufacturers want to move beyond tracking multiple data points to monitoring dynamic signals that could relate spikes in customer orders or delays in supplies. By using our Cloud ERP to connect a comprehensive Signal Chain, they can quickly adapt to disruptions by more closely collaborating with suppliers and adjusting production plans for greater resilience and predictability to fulfill orders."
Committed to innovation and customer success, Rootstock is also attending Info-Tech to see its valued customer, Chad Wright, CIO of Boston Dynamics (https://bostondynamics.com/), deliver his presentation, "Unleashing Innovation: Robotics as a Catalyst for Creative Digital Transformation," on September 20 at 4:00 pm PT. In this session, Wright will delve into the role of robotics in addressing critical issues, such as labor shortages, outdated equipment, and worker safety.
Attending manufacturers will have the opportunity to experience the following Rootstock benefits at Info-Tech LIVE (https://www.infotech.com/events/las-vegas-live-september-20-22-2022):
- PUT THEORY INTO PRACTICE: Rootstock will meet with manufacturing leaders to understand their most pressing challenges and technology needs. They can receive practical advice on how to automate and enhance operations with the latest Cloud ERP capabilities. Manufacturers interested in setting up meetings with Rootstock should contact the team at marketing@rootstock.com.
- EXPLORE SHIFTING PRIORITIES: Rootstock recently released results from its 2023 State of Manufacturing Technology Survey (https://www.rootstock.com/manufacturing-technology-survey/). At Info-Tech LIVE, the team will share findings from this comprehensive survey of manufacturers, which represents various segments, levels of leadership, and both business and IT managers. From this survey, manufacturers can gain valuable benchmarks against which to compare their own business and IT strategies.
- ADDITIONAL NETWORKING OPPORTUNITIES: As Rootstock connects with manufacturers at Info-Tech LIVE, it will also provide invitations to attend its own Rooted-In Manufacturing Conference (https://rootedin.rootstock.com/), March 25-27, 2024, in New Orleans. Manufacturers can receive special offers that include early bird pricing to attend Rooted-In, where industry leaders will share ERP best practices and forecasts for the manufacturing industry.
ABOUT ROOTSTOCK
Rootstock Software provides the leading Manufacturing Cloud ERP, which empowers hundreds of manufacturers to turbocharge their operations in today's dynamic, post-pandemic world. Natively built on the Salesforce Platform, Rootstock delivers a futureproof solution. With it, manufacturers gain the agility to continually transform their businesses to meet evolving customer needs, navigate emerging challenges, and accelerate success. In addition, the "connectability" of Rootstock Cloud ERP gives manufacturers 360° visibility to collaborate with suppliers, trading partners, and the broader value chain. For more information, visit https://www.rootstock.com/.
ABOUT INFO-TECH RESEARCH GROUP
Info-Tech Research Group is one of the world's leading information technology research and advisory firms, proudly serving over 30,000 IT professionals. The company produces unbiased and highly relevant research to help CIOs and IT leaders make strategic, timely, and well-informed decisions. For 25 years, Info-Tech has partnered closely with IT teams to provide them with everything they need, from actionable tools to analyst guidance, ensuring they deliver measurable results for their organizations.
Featured Product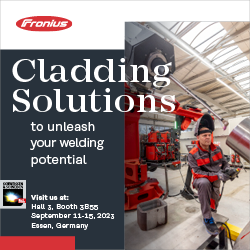 Ever since the invention of our "cold" MAG welding process Cold Metal Transfer (CMT), if not earlier, we have continuously achieved a technological edge in many welding-related areas, resulting in cutting-edge mechanized and automated welding systems. Advanced power source technology stabilizes the arc and ensures perfect welding results. Modern monitoring sensors optimize guidance of the welding torch and compensate for component tolerances. Last but not least, smart data documentation systems assist in perfecting the welding process. Collaborative systems, smart sensor technology, software solutions for data management, and offline programming including welding simulation open up profitable welding opportunities for metal processing companies starting with a single batch. That is why our robotic welding cells prove profitable not only for large companies, but also for small and medium-sized enterprises.