Enabling agile hardware development and faster time to market
Medford MA - Inkbit, a pioneer in advanced additive manufacturing solutions, announces today an exciting collaboration with Makelab, a leader in on-demand 3D printing services. This collaboration not only accelerates time to market but also facilitates flexible hardware development and broader access to Inkbit's Vision-Controlled Jetting (VCJ) technology, empowering a wider range of manufacturers and designers.

"Collaborating with Makelab was a logical progression in our dedication to offering customers an expedited route to the future of product development," says Davide Marini, Co-Founder and CEO of Inkbit. "Working with Makelab allows us to harness their expertise in on-demand 3D printing and pair it with the Inkbit VCJ technology, creating new avenues for functional prototyping and streamlining the transition from design to production."
The collaboration expands the accessibility of VCJ to companies eager to experiment with this new technology and materials in their prototyping processes such as consumer packaged goods, hardware, and industrial design firms seeking precise & advanced materials for functional & advanced prototyping.
VCJ technology has introduced new materials, Vulcan Soft Elastomer and Titan Tough Epoxy (also referred to as "Soft Elastic" and "Tough Epoxy" at Makelab), improving the ability to produce intricate and finely detailed 3D printed parts. Several emerging applications include precision components, liquid-holding seals, and specialized gaskets.
One of the early adopters of this collaboration, Hydrific, a Lixil company, and Makelab customer since 2022, experienced the transformative impact of VCJ technology on their project, tackling water conservation, usage, and sustainability in homes through hardware. With the precision of Vulcan Elastic, also referred to as "Soft Elastic" at Makelab, they were able to precisely prototype gasket parts for their product, with a tolerance and fit unlike any other materials currently available in the market. Because of their need for precision, Soft Elastic was a great fit for their prototyping applications.
"The Inkbit Vista system integrates cutting-edge precision and material versatility, enabling us to educate and transition our existing customers onto a more advanced platform and a new era of prototyping possibilities," commented Christina Perla, Co-Founder and CEO of Makelab. "Our partnership sets the stage for a new wave of agile hardware development and promises to further evolve the additive manufacturing landscape."
To place an order with Soft Elastic and Tough Epoxy materials using the Vista powered by VCJ visit Makelab's Instant Quote Tool at https://makelab.com/quote.
Or to learn more about the Inkbit technology, visit www.inkbit3d.com.
Featured Product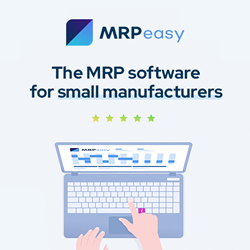 Always know what you have in stock and what you'll need to fulfill orders. Never forget to order parts on time or fail to notice a late delivery from your vendor. Easily create manufacturing orders and schedule them automatically according to resource availability or delivery deadline. Generate accurate cost and lead time estimates and provide customers with quick quotes. Receive notifications when orders are late or inventory levels reach a critical point. Ensure seamless communication between sales, production, warehousing, procurement, administration, and finance. Integrate with popular accounting, CRM, and e-commerce apps. MRPeasy is an ERP software for small manufacturers that gives you all that and more. Our users report a 54% average improvement in the overall performance of their business and a 42% increase in on-time deliveries. Try for free, no credit card needed.