Visit Stand # D8 to see Thermoplastic Composite and Elastomer solutions that outperform and outlast in the harshest rotating machinery applications
Lansdale, PA - Greene Tweed, a leading global manufacturer of innovative sealing solutions, connectors, and wear- and abrasion-resistant composite components engineered to outperform and outlast in the world's harshest environments, will be showcasing its extensive range of products at Middle East Rotating Machinery Technology & Innovation Conference & Showcase (ME RoTIC). Products on display at the three-day event, beginning September 25th, 2023, at Festival Arena at InterContinental, Dubai, UAE, include wear- and abrasion-resistant WR®/ AR® composite/thermoplastic solutions and premium Chemraz® sealing solutions that extend the service life of pump wear components.

In addition, Nicolas Weibel, technology manager at Greene Tweed's Advanced Technology Group, which is at the forefront of developing new materials to perform in the most demanding industries and applications, will conduct a technical briefing, 'Composite Components Boosting Performance in Rotating Equipment' at ROTIC. The briefing will highlight new and innovative composite components, such as Greene Tweed's latest composite impeller that meet the demands of hydrogen compression. Unlike metallic impellers, which would explode before reaching the required speed for hydrogen compression, Greene Tweed's newly designed and patent pending composite impellers are engineered to spin with a tip speed of more than 600 meters per second.
"At Greene Tweed, we are proud of our 160 years of continuous material science innovation," says Magen Buterbaugh, President and CEO of Greene Tweed. "We have been serving our customers in the Middle East for several years with our advanced Chemraz® seals and thermoplastic composite wear and abrasion-resistant components that ensure greater reliability, increased efficiency and enable critical pump and compressor operations to push the boundaries of what is possible even under the most extreme operating conditions."
Greene Tweed's custom-engineered solutions meet critical needs and deliver certainty for challenging pump and compressor operations in refineries, petrochemical plants, power generation plants, and chemical processing plants. Our advanced elastomer seals and thermoplastic composite wear- and abrasion-resistant components last up to five times longer than metal, ceramic, and rubber solutions for dramatically longer lifetimes. This durability results in safer operations, reduced downtime, and in turn less maintenance requirements.
The high-performance products on display at RoTIC Dubai will include WR®600, a carbon-fiber-reinforced PFA-based composite featuring near universal chemical resistance and non-galling properties that facilitate extended periods of dry running during upset conditions. WR® 600 tolerates rapid startup or shutdown without the risk of seizure, fracture, or pump failure. Components made of WR®600 run tighter clearances than traditional metallic materials, reducing recirculation and improving efficiency. This results in substantial energy savings, extended service life, and improved mean time between repairs. Greene Tweed composites solutions have been API 610 compliant for over two decades.
Greene Tweed's Arlon® 4020 labyrinth seals will also be on display. Due to the custom engineered profile, with flexible teeth at optimal clearances, Arlon® 4020 labyrinth seals are proven to provide long-term compressor efficiency gains of 1-2%.
Greene Tweed will also showcase AR® Abrasion Resistant thermoplastic composite bearings engineered to protect pump systems from sand, salt, scale, and other solids. Also on display will be Chemraz® o-rings and sealing solutions known for their exceptional resistance to extreme temperatures and aggressive chemicals.
Greene Tweed applications engineers work with customers to find the optimal elastomer and composite/thermoplastic solutions for the wear components of an industry's most demanding pump applications.
###
About Greene Tweed
Greene Tweed is a leading global manufacturer of high-performance thermoplastics, composites, seals, and engineered components that outperform and outlast in the world's harshest environments. For 160 years, we have served clients in semiconductor, oil and gas, aerospace, defense, chemical processing, power generation, and other sectors with a custom, collaborative approach that delivers certainty for their crucial operations.
Greene Tweed products are sold and distributed worldwide. For additional information, call +1.215.256.9521, or visit our website at http://www.gtweed.com.
Featured Product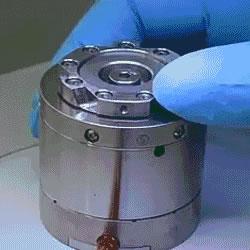 A traditional gantry system employs X-Y or X-Y-Z range of motion. Mounted on a base plate, usually granite, 2 parallel rails constitute the synchronized Y axis motion while the cross axis (bridge axis) provides the X motion. A vertical axis can be added on the bridge for the Z motion. A Split Bridge system can be less complex than a traditional gantry system because synchronization of the two parallel linear motors is not required. Both systems are used in industrial production, testing, and additive manufacturing.