FILTEC General Manager David Booher expressed excitement about showcasing a range of machine Vision solutions at Pack Expo.
FILTEC (www.filtec.com), a leading global provider of fill line inspection solutions, will demonstrate its latest machine Vision solutions at PACK EXPO Las Vegas. Pack Expo showcases advanced packaging equipment, materials, and containers from exhibitors around the globe, and runs from September 11-13, 2023, at the Las Vegas Convention Center.

FILTEC General Manager David Booher expressed excitement about showcasing a range of machine Vision solutions at Pack Expo. He states, "FILTEC solutions are extremely flexible and can be seamlessly integrated into any stage of the production line. With Filtec's modular Vision platform, implementing Vision inspection to enhance efficiency, minimize waste, and boost production has become more accessible than ever before."
At booth 2106 in the Central Hall of the Las Vegas Convention Center, attendees can view the following solutions:
Remote Vision Inspection: Filtec's Remote Vision Inspection (RVI) Modules utilize modern Vision technology for a number of inspection applications, including date and lot code inspection, label presence, closure, color, fill level, and more. RVIs have a very small line footprint and integrate with the FILTEC INTELLECT inspection platform to provide compact and flexible quality assurance inspection solutions for containers on most fill lines.
Fill Level Inspection: Filtec is the leader in rigid container Fill Level inspection and at Pack Expo 2023, it will demonstrate Photon, Vision, and Remote Vision Fill Level inspection machines, including a 360-degree Fill and Closure solution.
Empty Can Inspection: The Filtec Empty Can Inspection Solution is a highly configurable system that uses Vision technology to detect defects in empty cans on lines running up to 2,400 cans per minute (CPM). It uses a dual circular top lighting station that illuminates the inspection area to inspect a can's flange, surface, and bottom.
Vision Label Inspection: The Filtec Label Inspection Solution uses state-of-the-art Vision technology to inspect the placement and condition of glue-on and shrink-sleeve labels for line speeds of up to 1,000 containers per minute. Advanced imaging capabilities combined with the INTELLECT platform ensure that only containers with perfect labels make it to the point of sale.
FILTEC will also demonstrate its powerful INTELLECT container inspection platform at the convention. "By leveraging our INTELLECT platform and quantitative analysis software, we enable manufacturers to achieve unprecedented levels of accuracy, efficiency, connectivity, and waste reduction - in real-time," explains FILTEC Global Product Manager Dave Coleman. "INTELLECT empowers our customers to optimize their production processes and ensure exceptional product quality for customers at the point of sale."
About FILTEC
For more than 65 years, FILTEC, a member of the Kestrel Vision Group of companies, has been a trailblazer in fill line quality assurance inspection technologies. Today, FILTEC is the leader in Vision, Photon, and Sensor inspection solutions that increase the efficiency of production fill lines while reducing costly waste, assuring brand integrity, and protecting customers at the point of sale. Our inspection solutions for metal cans, glass bottles, PET bottles, and whole packs include fill level, label, pressure, closure, and empty can and bottle inspection. FILTEC's INTELLECT inspection platform with quantitative analysis software gives food, beverage, household goods, personal care, and chemical producers a real-time view of their line performance. For more information, please visit www.filtec.com.
Featured Product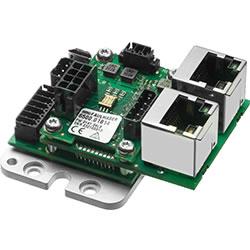 MOTION CONTROLLERS FOR MINIATURE DRIVES AND MICRODRIVES. FAULHABER has added another extremely compact Motion Controller without housing to its product range. The new Motion Controller is ideal for integration in equipment manufacturing and medical technology applications. With 36 V and 3 A (peak current 9 A), it covers the power range up to approx. 100 W and is suitable for DC-motors with encoder, brushless drives or linear motors.