Visit booth #A1304 to chat with AMADA WELD TECH's welding experts
MONROVIA, CA - AMADA WELD TECH, a leading manufacturer of equipment and systems for welding, marking, cutting, sealing, and bonding, announces its attendance at FABTECH 2023 in Chicago, IL. The show will run from September 11-14 at McCormick Place and will feature experts from across industries dealing with metal forming, fabricating, welding, and finishing. Conference attendees can take advantage of meeting over 1,500 suppliers and industry experts under one roof.

AMADA WELD TECH will showcase its manufacturing solutions in AMADA AMERICA's booth (#A1304). AMADA WELD TECH'S products are ideal for a wide range of applications including resistance and laser welding, hot crimping, wire compacting, and laser marking. AMADA WELD TECH also provides state-of-the-art equipment for weld process monitoring. The very latest monitors are capable of capturing, and storing application critical data on a central server. This means stakeholders across locations can access and analyze this data more efficiently, enabling teams to conduct process analysis across the world.
Conference attendees interested in learning more about weld process monitoring can hear AMADA WELD TECH's Senior Manager, Product Engineering and Applications, Dr. Mark Boyle, speak on the topic at 10 a.m. on Tuesday, September 12th. As welding applications become smaller, maintaining proper signal levels and consistent signal detection throughout the process is proving to be an industry challenge. Plus, high-volume signal data capture continues to pose a computing challenge. Dr. Boyle's presentation will cover these topics in micro-welding and more, with a glimpse towards artificial intelligence and machine learning used for weld process monitoring.
You can learn about AMADA WELD TECH'S product offerings here: https://amadaweldtech.com/.
###
About AMADA WELD TECH
Since 1948, AMADA WELD TECH has worked to achieve one goal: to solve customer's manufacturing challenges. Knowing there is no one solution that fits all, the company strives to provide customers with innovative and reliable manufacturing technology solutions in an effort to be their single source provider. AMADA WELD TECH manufactures equipment and systems for resistance welding, laser welding, laser marking, laser cutting, hermetic sealing and hot bar reflow soldering and bonding. The company serves a wide range of markets including medical devices, battery, aerospace, automotive and electronic components. AMADA WELD TECH is an ISO9001 certified company. Contact AMADA WELD TECH
Contact:
Kristin Nugent
McNeil, Gray & Rice Inc.
617-367-0100 ext. 148
kristin.nugent@mgr1.com
Barbara Kuntz
AMADA WELD TECH INC.
barbara.kuntz@amadaweldtech.com
Featured Product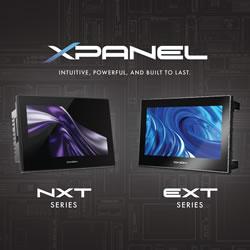 Introducing the Xpanel eXT and nXT series, advanced industrial HMI solutions that set a new standard for performance and usability. Utilizing our brand new Canvas HMI software for project creation, the Xpanel eXT and nXT series deliver a seamless and efficient user experience. They combine industrial-grade touch technology, powerful embedded OS hardware with a quad-core CPU, and an easy-to-use runtime platform. The Xpanel eXT and nXT series are specifically designed to optimize and streamline industrial operations, enhancing your HMI experience.