WISER Systems will present: Why UWB RTLS is the Right Technology for Manufacturing Environments.
Raleigh, NC, Sept. 06, 2023 — WISER Systems, a leading provider of precision positioning and asset tracking systems, will exhibit at FABTECH, September 11-14 at McCormick Place, Chicago, Illinois, booth #B11004. WISER's Director of Technical Sales, Logan Maxwell will present at the show's Smart Manufacturing Workshop on September 13th, 2:30-3:00 pm to discuss Why UWB RTLS is the Right Technology for Manufacturing Environments.

The workshop will be held from 12:00-5:00 pm and features speakers from various industries and disciplines that include topics such as, Introduction to Smart Manufacturing, Going Beyond OEE, Collaborative Automation, and Digital Transformation's Next Evolution: The Industrial Metaverse, to name a few. View the full session agenda with all ten topics and presenters.
WISER will be conducting demonstrations of our large-scale ATLAS™ system and our newly updated Tracker App, which allows users to precisely locate and track thousands of tagged items, even in densely packed metallic environments, in real-time without line-of-sight, and without sacrificing the precision, minimal infrastructure and ease of install and use that WISER's lower-density Locator™ already provides.
WISER ATLAS allows the user to easily couple work-orders or part numbers to tags using the WISER Tracker App and ATLAS' mesh network. This simple association instantaneously enables tracking thousands of assets throughout the entire manufacturing process and facility. Users can view all tagged items as they move throughout the facility using the app or via the facility's ERP, MMS, or WMS system. The search function locates the tag being searched on the facility's floorplan for easy retrieval or process step identification in real time. Options allow for precise, real-time tracking by type, in groups, in-and-out of user-defined zones, tracking histories, and more.
The WISER System uses proprietary UWB Redundant Radio Location & Tracking (RRLT) technology to locate, identify, and track assets in real time. WISER ATLAS delivers solutions for Industry 4.0 priorities, including smart manufacturing, operations improvement and efficiencies, warehouse and auto-inventory management, supply chain and logistics, and yard management, to name a few.
"We're excited to present at the Smart Manufacturing Workshop and be among such a great group of industry leaders. We hope workshop participates will gain an understanding as to why UWB RTLS is the best tracking solution for industrial manufacturing environments," said Mark Dirks, Chief Revenue Officer at WISER Systems. "We also look forward to demonstrating our updated Tracker App, allowing customers to begin realizing ROI immediately," he added.
FABTECH, according to the website, is North America's largest metal forming, fabricating, welding and finishing event, offering a comprehensive conference with targeted technical, operational, economic and managerial sessions.
About WISER Systems, Inc.
WISER's innovative UWB Locator utilizes proprietary Redundant Radio Location & Tracking (RRLT) technology to deliver scalable real-time location in nearly any indoor or outdoor environment, reporting precise (sub-meter or inch-level) coordinates via a computer or mobile device. Headquartered in North Carolina, WISER's RRLT location solutions are accurate even in cluttered, metallic, or complex manufacturing environments where conventional tracking technologies perform poorly. The system is lightweight and portable and can be deployed in minutes, thanks to WISER's auto calibration tool. End customers include numerous fortune 100 companies, several large aerospace and defense contractors, and multiple U.S. Government agencies. WISER's low-power, encrypted system is uniquely safe and secure. Deployment is within customer firewalls, and customers own their own data. WISER manufactures its critical RRLT components in the USA.
Featured Product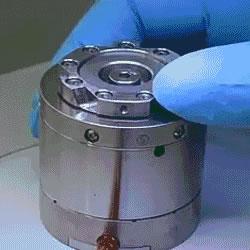 A traditional gantry system employs X-Y or X-Y-Z range of motion. Mounted on a base plate, usually granite, 2 parallel rails constitute the synchronized Y axis motion while the cross axis (bridge axis) provides the X motion. A vertical axis can be added on the bridge for the Z motion. A Split Bridge system can be less complex than a traditional gantry system because synchronization of the two parallel linear motors is not required. Both systems are used in industrial production, testing, and additive manufacturing.