Leaders from the manufacturing and government sectors will discuss the impact of digital transformation at the MES & Industry 4.0 International Summit
09.08.2023, PORTO, Portugal - Critical Manufacturing, a global leader in next-level automation and manufacturing execution systems (MES), has announced a stellar slate of speakers and panelists for its upcoming MES & Industry 4.0 (MESI) International Summit. Portugal's Secretary of State for Digitalization and Administrative Modernization Mário Campolargo will deliver the inaugural speech to the conference; Industry 4.0 strategy advisor Jeff Winter from Hitachi Solutions, will deliver the opening keynote; and experts implementing digitalization projects will share their experience and insights in panels and presentations throughout the two-day event.

"This is a very exciting time to be involved in manufacturing automation. Industry 4.0 is taking hold, and many companies are finding smarter ways to cut costs, streamline operations and improve quality. We created this summit as a platform for bringing those who have cross industry and cross company experience with smart manufacturing together with those applying it in their own companies," said Francisco Almada Lobo, CEO at Critical Manufacturing.
MES & Industry 4.0 International Summit provides industry leaders, experts, and visionaries who are shaping the future of the manufacturing industry a platform to connect, collaborate, and explore the latest innovations, trends, and best practices in an environment conducive to learning and growth. It includes a panel discussion, hands-on round tables, captivating demonstrations, and thought-provoking case studies.
Jeff Winter, the keynote speaker is an expert in helping manufacturers implement Industry 4.0 to improve their operations. Second day will feature a keynote presentation on 'Supercharging Manufacturing Transformation: Delivering business value from shop floor to top floor' by Hari Sadarhalli and Shantanu Rai, corporate vice president and associate vice president respectively, at HCL Technologies Ltd. The event will further encompass roundtable discussions led by Critical Manufacturing MES users and other industry leaders, focusing on the following topics:
• Role of MES and IIoT in Building Resilient and Data-driven Enterprise. Thomas Beeg, Managing Director and CEO at Fabmatics USA will moderate the panel, which will include Frank Hochschultz from Fraunhofer, Thomas Amrein from Vishay, and Christian Schmidbauer from AMS Osram.
• Decoding IoT: Practical Guidance for Success in Modern Manufacturing, which will focus on the Internet of Things (IoT) in the context of modern manufacturing and shop-floor equipment integration. Panelists include John Vargo, Jeff Rericha and Yi Han Lee, all of Rovisys.
• Partnering for the Digital Plant of Future, which will examine the divide between the Industry 4.0 vision and the reality. Panelists include Cognizant IOT industrial operations specialists Amol Akre and NS Mahadevan.
• Docker Containers, the Future of Industry 4 Software Development. Panelists include Neil Cresswell and Tobia Mühlnikel, both of Portainer.io.
Complementing the keynotes and panels will be industry use case presentations from experts representing the following industries:
• Semiconductor production, including Didier Chavet, head of manufacturing IT operations, Micron Technology; David Fried, corporate vice president, Lam Research; Priya Almelkar, VP IT manufacturing and product engineering, Wolfspeed, and Missy Stigall SVP, global fab Wolfspeed.
• Medical device manufacturing, including Michael Kaiser, global process coordinator, B.Braun and Tonniele Naeher, MES program manager, Integer.
• Industrial equipment manufacturing, including Tarun Chopra, head of manufacturing services for Danfoss Group IT.
• Electronics manufacturing, including Alexander Hagenfeldt, Senior Manager Service EMEA at ASMPT.
Expected attendees include CXOs, VPs, directors, and managers of manufacturing, production, IT and operations, many of whom are managing digitalization, innovation initiatives. Space is limited and available on a first come, first service basis.
For more information about MESI 4.0 or to pre-register for the event, please visit https://mesi40-summit.com?utm_source=pressrelease&utm_medium=bcm&utm_campaign=MESI40
About Critical Manufacturing
Critical Manufacturing, leader in the Gartner Magic Quadrant and a subsidiary of ASMPT, provides the most modern, flexible, and configurable manufacturing execution system (MES) available. Critical Manufacturing MES helps manufacturers stay ahead of stringent product traceability and compliance requirements, reduce risk with inherent closed-loop quality, integrate seamlessly with enterprise systems and factory automation, and provide deep intelligence and visibility of global production operations.
As a result, our customers are Industry 4.0 ready. They can compete effectively and profitably by easily adapting their operations to changes in demand, opportunity, or requirements, anywhere, at any time. For more information, visit www.criticalmanufacturing.com
About ASMPT
ASMPT (HKEX stock code: 0522) is a leading global supplier of hardware and software solutions for the manufacture of semiconductors and electronics. Headquartered in Singapore, ASMPT's offerings encompass the semiconductor assembly & packaging, and SMT (surface mount technology) industries, ranging from wafer deposition to the various solutions that organise, assemble and package delicate electronic components into a vast range of end-user devices, which include electronics, mobile communications, computing, automotive, industrial, and LED (displays). ASMPT partners with customers very closely, with continuous investment in R&D helping to provide cost-effective, industry-shaping solutions that achieve higher productivity, greater reliability, and enhanced quality.
ASMPT is one of the constituent stocks of the Hang Seng Composite MidCap Index under the Hang Seng Composite Size Indexes, the Hang Seng Composite Information Technology Industry Index under Hang Seng Composite Industry Indexes, and the Hang Seng HK 35 Index. To learn more about ASMPT, please visit us at www.asmpt.com
Media contact:
Shreyasi Bhaumik
BCM Public Relations Ltd.
+44 203 409 5090
s.bhaumik@bcmpublicrelations.com
Featured Product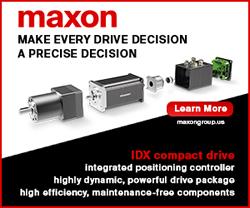 The compact brushless EC-i motor combined with an EPOS4 positioning controller delivers a highly dynamic, powerful drive package with field-oriented control (FOC), high efficiency, and maintenance-free components in a high-quality industrial housing. The maxon IDX drives are suitable for use across the entire speed range (from standstill to maximum speed) and have an extremely high overload capability. Together with a positioning controller, the integrated sensor (single turn) enables absolute positioning.