KHK® Gear Cubes allow for visual understanding of gear principles
Mineola, NY - KHK USA Inc., distributor of the market leading KHK® brand of metric gears, announces its new line of educational gear demo kits, manufactured to the highest quality standards by Kohara Gear Industry Co., of Japan. Known as KHK® Gear Cubes, these educational gear demo kits are designed to give a visual understanding of the various mechanical advantages of KHK® stock gears.
KHK® Gear Cubes are available in six models: Spur Gearing, Helical Gearing, Miter Gearing, Rack & Pinion, Screw Gearing, and Worm Gearing. Each kit includes all of the KHK® stock gears necessary to build the demo kit along with the associated shafts, bearings and frame. The frame includes a plexiglass housing to keep fingers from getting pinched.
These educational gear kits can be operated by hand or an option knob can be included.
For more advanced learning, the kits can be combined in various configurations to build a complete geartrain.
Please note that the KHK® Gear Cubes are designed strictly for educational purposes and should never be used to transmit any loads.
For more information on KHK Gear Cubes, please visit: https://www.khkgears.us/catalog/?cid=gear_assembly_kit
###
About KHK USA Inc.
KHK USA, based in Mineola, New York, is a wholly owned subsidiary of Kohara Gear Industry. KHK USA is a factory direct, full-service distributor of KHK gears with a large selection of product available off-the-shelf to meet your gearing needs. On staff application engineers assist customers with a wide selection of gears for their design and can produce customer gear quotations.
Featured Product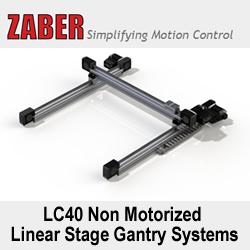 A Zaber gantry kit comes with everything you need to build a customized XY gantry system or XYZ gantry system. These gantry systems feature coordinated multi-axis motion, plug-and-play operation, easy integration with end-effector options, and built-in IO and E-Stop capabilities. An intuitive ASCII interface allows the user to easily communicate with the gantry systems using our free software, either Zaber Motion Library with APIs for several popular languages or Zaber Console. Third party terminal programs that can communicate over a serial port can also be used.