Aras supports leading personal care company in transforming product lifecycle management in 56 countries
ANDOVER, Mass. - June 8, 2023 - Aras, which provides the most powerful low-code platform with applications to design, build, and operate complex products, announced today that Corman has selected Aras Innovator to enhance its manufacturing, distribution, and sales activities. Corman is one of the largest global manufacturers of medical devices and personal care products.

For over 70 years, Corman has been committed to innovation and research in its space. As the company has grown, it has sought new ways to ensure speedy development of safe and effective solutions for the health and well-being of millions of customers worldwide. Corman has also made sustainable practices part of its core by implementing measures that promote more efficient and environmentally friendly management of consumption. They use renewable raw and biodegradable materials, installed a solar system to generate energy, and collaborate with suppliers who comply with the rules regulations around sustainability to reduce risk.
As the company has grown in size and complexity, it needed a new product lifecycle management (PLM) solution that could guarantee more effective management of its data. The company's existing systems could no longer handle the massive amount of data it was grappling with, so it started a search for a more advanced and scalable solution.
Corman selected Aras Innovator, giving it high marks for its intuitive user-friendly interface and overall ease of use. After conducting a feasibility study to assess how Aras Innovator would meet the company's needs, Corman has moved forward with an implementation project. Using Aras Innovator, Corman expects to quickly achieve significant increases in process efficiency and organization. Aras Innovator gives Corman one platform for complete, end-to-end product lifecycle management, spanning requirements and engineering to manufacturing and operation.
Luigi Salerno, country manager, Aras Italy, said: "We are proud to accompany Corman in this important process of implementing the product lifecycle management platform. This represents a significant step towards a more efficient organization, which improves process management and allows greater traceability of crucial information."
Adriano Vitale, Process R&D Manager, Corman, said: "I am extremely happy to announce that Corman has adopted Aras' PLM platform. This decision represents an important step forward for our company, allowing us to optimize product lifecycle management processes and improve internal collaboration. We are excited to use Aras to increase operational efficiency, provide greater visibility and control over our products, and drive continuous innovation. I am confident that the adoption of this platform will contribute to our long-term success and position us advantageously in the competitive market in which we operate."
About Corman
Corman manufactures and distributes drugs, medical devices, and personal care products in Italy and in over 40 countries worldwide. Independent and private, thanks to the skills acquired in over 70 years of research, it develops solutions and answers to improve the quality of life of patients in the therapeutic areas where it is present. Together with international partners, it designs products, services and training activities for all the figures involved in the pharmaceutical supply chain. It studies, manufactures, and distributes absorbency products made using natural raw materials, such as cotton. The products are clinically tested and certified to meet the needs of the most sensitive skin and the environment. The headquarters are in Milan, Italy and operates with branches in Europe, the United States and China. www.corman.it
About Aras
Aras provides the most powerful low-code platform with applications to design, build, and operate complex products. Its technology enables the rapid delivery of flexible, upgradeable solutions that build business resilience. Aras' platform and product lifecycle management applications connect users in all disciplines and functions to critical product data and processes across the lifecycle and throughout the extended supply chain. Airbus, Audi, DENSO, Honda, Kawasaki, Microsoft, Mitsubishi, and Nissan are using the platform to manage complex change and traceability. Visit www.aras.com to learn more and follow us on Twitter and LinkedIn.
© 2023 Aras Corporation.  All rights reserved.  Aras and Aras Innovator are either registered trademarks or trademarks of Aras Corporation in the United States and/or other countries. Third party trademarks mentioned are the property of their respective owners.
PR contact:
Shannon Van Every
Force4 Technology Communications
Shannon@force4.co
Featured Product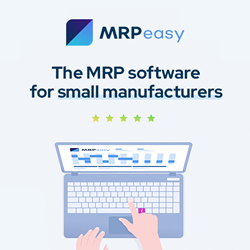 Always know what you have in stock and what you'll need to fulfill orders. Never forget to order parts on time or fail to notice a late delivery from your vendor. Easily create manufacturing orders and schedule them automatically according to resource availability or delivery deadline. Generate accurate cost and lead time estimates and provide customers with quick quotes. Receive notifications when orders are late or inventory levels reach a critical point. Ensure seamless communication between sales, production, warehousing, procurement, administration, and finance. Integrate with popular accounting, CRM, and e-commerce apps. MRPeasy is an ERP software for small manufacturers that gives you all that and more. Our users report a 54% average improvement in the overall performance of their business and a 42% increase in on-time deliveries. Try for free, no credit card needed.