Industry Luminaries Will Gather in Person to Discuss the Future of Machine Identities in Today's Modern, Cloud Native World; Call for Speakers Now Open
Venafi, the inventor of machine identity management, today announced that Machine Identity Management Summit 2023 will take place on September 18-19 at Illuminarium in Las Vegas. This fifth annual summit will bring together future-focused CISOs, InfoSec leaders, security architects, cloud native architects, PKI experts and industry thought leaders once again to explore groundbreaking security trends in modern machine identity management, zero trust, AI, cloud native and more.

"Machine identities serve as cornerstones of digital innovation"
"Machine identities serve as cornerstones of digital innovation," said Sandeep Singh Kohli, chief marketing officer at Venafi. "Yet the accelerating pace and adoption of AI and cloud native technologies means securing and managing these identities is more vital and challenging than ever. Venafi's annual Machine Identity Management Summit is the definitive industry event for security and IT professionals looking to better understand our increasingly machine-driven world, helping them to be both fast and secure."
In-person attendees will have the opportunity to participate in expert discussions, unique networking events and hands-on technical workshops in an immersive experience with wall-to-wall sights and sounds that sets the stage for innovation and disruption in modern machine identity management. A hybrid event, Machine Identity Management Summit 2023 will also be streamed live for virtual attendees.
Past Machine Identity Management Summits have featured speakers from industry innovators such as Netflix, HashiCorp, Cisco, Oracle, CNCF, Gartner, Aflac, Lloyd's Banking Group and the United States Postal Service. To learn more about Machine Identity Management Summit 2023 and register for the event, please visit https://www.MIMSummit2023.com. Follow #MIMSummit2023 on Twitter for event updates.
Venafi is currently looking for speakers to share their vision of the future of machine identity management through real-world case studies, technical how-tos, best practices and panel discussions. To submit a session, please visit https://venafi.wufoo.com/forms/call-for-proposals/. The call for speakers is open through June 23.
About Venafi
Venafi is the cybersecurity market leader in machine identity management. From the ground to the cloud, Venafi solutions manage and protect identities for all types of machines—from physical and IoT devices to software applications, APIs and containers. Venafi provides global visibility, lifecycle automation and actionable intelligence for all machine identity types and the security and reliability risks associated with them.
With more than 30 patents, Venafi delivers innovative machine identity management solutions for the world's most demanding, security-conscious organizations and government agencies, including the top five U.S. health insurers, top five U.S. airlines, top four payment card issuers and top four U.S. banks. As a leading provider of open source machine identity management solutions, Venafi is the creator of the open source cert-manager project, which is downloaded more than 1.5 million times a day. For more information, visit https://venafi.com/.
Featured Product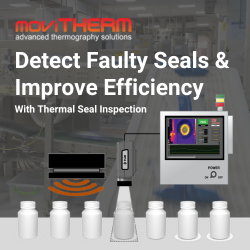 MoviTHERM's Thermal Seal Inspection (TSI) solution provides precise and reliable detection of defects in a variety of packaging types, including pouches, bags, blister packs, bottle caps, and more. By detecting defects in your packages, the TSI solution helps increase efficiency in your production line and ensures top-quality packaging is delivered to your customers every time. With state-of-the-art technology and an experienced team, MoviTHERM is dedicated to delivering accurate inspection solutions and peace of mind to its clients. Contact MoviTHERM today to learn more about their thermal seal inspection solution.