GEMCO introduces the Porta Hopper Tumble Mixer, an advanced solution that transforms material handling and blending processes in industrial operations. The Porta Hopper is a three-in-one solution that integrates material handling, blending, and transportation and offers the top three advantages over other machinery - efficiency, precision, and versatility in industrial operations.
GEMCO, a leading manufacturer of industrial machinery, is proud to present the Porta Hopper Tumble Mixer, a unique solution designed to optimize material handling and blending efficiency in various industries. This innovative machine integrates blending, transport, and material handling capabilities into a single vessel, improving production processes like never before.

Efficiency - The Porta Hopper Tumble Mixer offers a number of advantages. Firstly, it maximizes productivity by saving valuable time and money. With multiple hoppers, the Porta Hopper enables the handling and processing of materials in a semi-continuous cycle, minimizing downtime to the minimal period required for hopper exchange. This efficient system eliminates the need for multiple machines and ensures continuous production flow, boosting overall productivity.
Precision - The Porta Hopper also gives companies complete control over their mixing processes. Its user-friendly control panel enables operators to choose the ideal blend and guarantees reliable outcomes for each operation. This level of precision and reliability guarantees high-quality output, setting the Porta Hopper apart as an industry-leading solution.
Versatility - In addition to its efficiency and control, the Porta Hopper stands out for its exceptional versatility and space-saving design. By consolidating blending, transport, and material handling capabilities into a single vessel, it simplifies the production process and maximizes flexibility. This eliminates the need for coordinating multiple machines and optimizes the utilization of limited manufacturing space, offering businesses unprecedented convenience and adaptability.
Constructed with top-quality materials, this robust machine ensures longevity and reliability, minimizing maintenance costs and maximizing productivity. With an average lifespan of 40 years, the Porta Hopper provides businesses with a dependable solution that withstands the test of time.
Furthermore, GEMCO understands that each business has unique requirements, and customization is crucial. It offers tailored solutions, from design to functionality, perfectly suited to specific needs. This high level of customization ensures optimal performance and efficiency, enabling businesses to achieve their goals effectively.
The Porta Hopper excels at meeting the demands of various industries. Its wide range of applications includes the chemical, pharmaceutical, and food processing sectors. The Porta Hopper's ability to manage quick changeovers for cleaning and its sensitivity to cross-contamination issues make it an indispensable asset for businesses seeking to enhance their material handling and blending processes.
About GEMCO: GEMCO has been providing best-in-class tumble mixing and drying solutions since 1916. A fourth-generation family-owned industrial manufacturer, GEMCO has engineered, produced, and installed thousands of mixers and dryers worldwide and maintains the largest tumble mixing and drying technology center on the planet.
Featured Product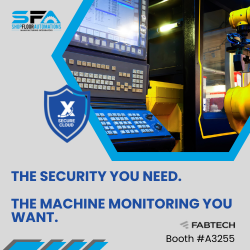 For manufacturers adhering to regulations like International Traffic in Arms (ITAR), Defense Federal Acquisition Regulation Supplement (DFARS) and other security and compliance requirements, the ability to monitor disparate machines, each with a unique control system and communication protocol with varying ages, can make continuous improvement initiatives challenging in the cloud. The Scytec DataXchange solution, available through Shop Floor Automations, resolves these issues by leveraging AWS GovCloud to capture real-time, Industrial Internet of Things (IIoT) data from a variety of equipment - from lasers and press brakes, to saws and robots - through universal machine connections to give teams full transparency on the shop floor through an architected secure cloud solution for a total smart factory transformation.