Partnership Aims to Empower Manufacturers to Boost Sustainability Plans and Use Rootstock Cloud ERP to Help Track Carbon-Neutralizing Efforts
San Ramon, CA (May 31, 2023) - Rootstock Software, a recognized leader in the Manufacturing Cloud ERP space, today announced that it has renewed its partnership with Climate Vault, an award-winning non-profit that reduces and removes carbon emissions.

"Today, the way we live and do business continues to impact our planet and environment," said David Stephans, CEO of Rootstock Software. "As a cloud ERP provider with a remote workforce, our carbon footprint is relatively small, but the audiences we serve, which are mainly mid- to large-sized manufacturers, have a huge potential to make an impact."
Rootstock Software initially became a Climate Vault partner in 2020, which means the company has been one of Climate Vault's first and original champions. Since then, Rootstock's contributions have allowed Climate Vault to purchase and vault carbon allowance permits, equivalent to 1,623 metric tons of CO2 from government-regulated compliance markets. In other words, the company's contributions have neutralized CO2 emissions that would have occurred if 182,626 gallons of gas were consumed, or 1.8 million pounds of coal were burned.
"Atmospheric levels of CO2 have reached the highest levels ever recorded. To help combat this climate challenge, we're proud to support Climate Vault's innovative approach to carbon reduction. It's a fast, credible, and verifiable way for manufacturers to neutralize their carbon footprint and can serve as a valuable component to their sustainability plans," added Stephans. "This year, we'll be working with Climate Vault to raise awareness of their program among our manufacturing audiences and looking at ways our Cloud ERP can help manufacturers track carbon reduction and offsetting efforts."
"We are thrilled to work with Rootstock on this important commitment to reduce their emissions footprint and support their sustainability goals," said Michael Greenstone, Co-Founder of Climate Vault and Milton Friedman Distinguished Service Professor of Economics at the University of Chicago.
Climate Vault's breakthrough solution has driven significant impact since its inception and is poised for scaling. In just over a year, the company has reduced nearly one million metric tons of carbon emissions, the equivalent to eliminating 185,304 cars from the road for one year.
ABOUT ROOTSTOCK
At Rootstock Software (https://www.rootstock.com/), our connected Manufacturing Cloud ERP enables hundreds of manufacturers to turbocharge their operations in a dynamic, post-pandemic world. With our solution natively built on the Salesforce Platform, our customers leverage the industry's leading Cloud ERP, Rootstock, to connect with their suppliers, trading partners, and the broader ecosystem.
Ranked as a leading ERP solution provider by industry analysts, Rootstock has vertical expertise in discrete manufacturing, medical devices and high-tech verticals. Rootstock team members partner with customers as trusted advisors in driving change and transformation to what's next.
Stay tuned to our LinkedIn posts: https://www.linkedin.com/company/rootstock-software
About Climate Vault
Founded at the University of Chicago, Climate Vault pioneered the world's first integrated carbon reduction and removal program in order to knock out carbon in days, not decades. This climate solution neutralizes organizations' carbon footprints through government-regulated markets, so the impact is verifiable, auditable, and quantifiable. Climate Vault's innovative system ultimately advances cutting-edge carbon removal technologies to take emissions out of the atmosphere for good and make an immediate, enduring difference for the planet. Learn more at www.climatevault.org.
Featured Product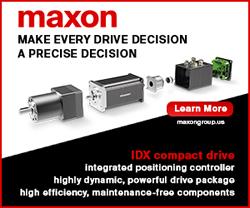 The compact brushless EC-i motor combined with an EPOS4 positioning controller delivers a highly dynamic, powerful drive package with field-oriented control (FOC), high efficiency, and maintenance-free components in a high-quality industrial housing. The maxon IDX drives are suitable for use across the entire speed range (from standstill to maximum speed) and have an extremely high overload capability. Together with a positioning controller, the integrated sensor (single turn) enables absolute positioning.