In Case You Missed It: Machine Safety Doors CAD Configurator Online
In January 2023, we launched our Industrial Safety Doors CAD Configurator so you can get early reference drawings and models in the CAD format you prefer.

This tool can also be used to initiate a new quote request using the "Request Quote" button after you make your selections.
Benefits:
CAD interface supports formats for all major CAD systems
CAD files are customized/generated through automation based on application details allowing true drop-in drawings for application
3D visualization
2D reference drawings
Available 24/7
Requires no password - just register once and you're all set
Save time between quote and order process
We're proud to launch this new tool to save you time. Applications, engineering, and ordering assistance are available by calling 262-786-1500 or emailing sales@dynatect.com.
Go to the Gortite® VF Automated Machine Safety Doors or Laser Protection Doors product page to access the CAD configurator
Featured Product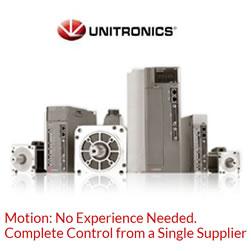 Unitronics' line of AC Servo Drives & Motors changes the traditional approach to motion control. They are simple to set up and painless to program. Unitronics Servos simplify implementation of motion applications while minimizing complexity and reducing development time. Some of the easy-to-use features in this new line include implementing motion control easily with ready-made motion code, embedded diagnostic tools, and automatic communication setup.