New factory increases local technical, commercial, and product manufacturing capabilities in Brazil
Indaiatuba, Brazil - Pfannenberg do Brazil, a leading global manufacturer of thermal management technologies to manufacturers based in Brazil and South America, announces the opening of their new factory in Indaiatuba, increasing Pfannenberg's technical, commercial and product manufacturing capabilities in the region.

With the opening of the new factory, Earl Rogalski, Regional Director - Americas, remarked, "I'm excited to be part of Pfannenberg's growth journey with our talented colleagues in Brazil. The new factory increases Pfannenberg's capabilities and allows us to best support our local customers."
Pfannenberg recently hosted their First Annual National Sales Meeting for Brazil at their new facility in Indaiatuba. Rogalski noted, "The sales meeting brought together over forty of our partners to collaborate on continued growth. We have marked the next chapter in Pfannenberg's focus and growth in Brazil."
As part of this new chapter, Pfannenberg do Brazil is focusing on additional local efforts including inside and outside sales, multilingual customer service and technical support, product manufacturing, local inventory, and local product service and repair.
Michel Leis, Managing Director - Brazil, commented, "I am proud to be part of Pfannenberg, especially Pfannenberg do Brasil. In 2022, Pfannenberg started a new chapter in this winning story, achieving great results, setting records, and accelerating our investment plans in Brazil. We started 2023 with this great gift, our new factory, for our employees and customers. During the First Annual Brazil Sales Meeting, we were able to share this significant moment of the factory opening with everyone. We are ready for 2023 and beyond."
###
About Pfannenberg
Pfannenberg, Inc. is recognized as a leading global manufacturer of Thermal Management, Liquid Cooling Solutions and Signaling Technologies. In 1958 we invented the Filterfan®, which continues to be recognized worldwide as a leading product to help manage the temperature in electrical enclosures. Our business philosophy: Protecting People, Machines, and the Environment.
Featured Product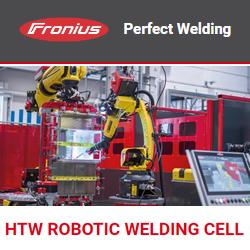 We aspire to produce more than just welding systems, which is why we are the innovation leader for arc welding and are constantly developing welding processes further. In addition to welding technology for robot applications, we offer solutions for manual gas shielded arc welding, for MIG/MAG, TIG, and MMA welding processes. We also implement automated, complete welding solutions tailored to customer requirements in the field of welding automation. After all, welding creates connections - between metals, between industries, and between people. Connected by the arc, by passion, by the beat of welding.