Lewis Center, OH - WIKA Sensor Technology, a global leader in advanced force and pressure sensor manufacturing, held the grand opening of its new facility last month.
WIKA Sensor Technology inaugurated its new 20,000 sq. ft facility on April 20, 2023, at its Creekside campus in the greater Columbus area. The event was attended by a distinguished guest list, including WIKA employees, customers, and local dignitaries such as Delaware County Commissioner Jeff Benton, WIKA Group CEO Alexandar Wiegand, and WIKA Americas President Todd Gardner.

Reflecting on this exciting milestone, Gardner stated, "The opening of this new facility marks an important moment for WIKA Sensor Technology as we continue to grow and expand our capabilities."
Completed in December 2022, the new facility represents a strategic investment to meet the company's need for a larger and better-optimized manufacturing space. Speaking at the grand opening event, Delaware County Commissioner Jeff Benton shared his thoughts on the company's investment: "WIKA Sensor Technology's investment in our community is a clear indicator of the region's thriving economy and the potential for growth. The addition of this facility not only brings new job opportunities but also highlights the continued development of Lewis Center as a hub for advanced manufacturing."
Furthermore, during his speech, Commissioner Benton mentioned that "In the nearly year and a half since we last gathered here for this project's groundbreaking, we've had reason to learn more about this county's special connection to its German Heritage. In the latest U.S. census, there was a question asked to respondents about ancestral heritage and we learned that the largest group here in the county was German; 25.9% of the county residents have German ancestors, which is 10 percentage points higher than the next largest group, the Irish. It's only fitting, therefore, that one of our biggest and most prestigious manufacturing projects ever reconnects us to our German roots."
Demonstrating WIKA's long-standing commitment to community involvement, WIKA Sensor Technology officially became a lifetime ambassador for CHA Animal Shelter, a local organization. Catherine Camp, representing the shelter, accepted the donation, which will go toward sponsoring the Paws to Party Gala as well as WIKA Sensor Technology's Lifetime ambassadorship.
WIKA's Creekside campus spans 14 acres and represents a $5.4 million investment, including land, construction, and job creation. Partnerships with OneColumbus and JobsOhio were instrumental in supporting this project. The facility's increased capacity has already added 22 new jobs to the local economy, with an additional 23 new jobs expected with the move of a pressure gauge production line from the WIKA USA headquarters in Lawrenceville, GA to Lewis Center.
The new facility will focus on building and manufacturing the WIKA force and direct drive product families, with future plans for this location to serve as WIKA's sensor hub in the US. It has also been certified to AS9100D, a quality management standard that enables WIKA to better serve the aerospace industry.
For more information on WIKA Sensor Technology's new facility and its innovative sensor products, visit their website at www.wika.com.
Featured Product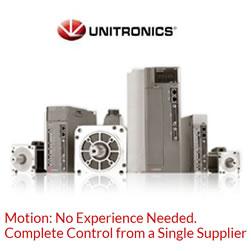 Unitronics' line of AC Servo Drives & Motors changes the traditional approach to motion control. They are simple to set up and painless to program. Unitronics Servos simplify implementation of motion applications while minimizing complexity and reducing development time. Some of the easy-to-use features in this new line include implementing motion control easily with ready-made motion code, embedded diagnostic tools, and automatic communication setup.