The new Axial AC101 Edge Server is powered by 13th Gen Intel Core processors, features a dedicated Baseboard Management Controller and is configurable with a range of customization options.
SOUTH BURLINGTON, VT (MAY 17, 2023)

In an effort to help transform raw data into value for businesses, global industrial computer manufacturer and solution provider, OnLogic (www.onlogic.com), has introduced the Axial AC101 Edge Server. The system has been engineered from the ground up to thrive in Network Edge, Industrial Internet of Things, Machine Learning, and Artificial Intelligence applications that depend on efficient access to data at the edge.
"Businesses are generating data faster and at higher quantities at the edge than ever before, but all that information is useless if it can't be captured, processed and acted upon quickly," says Kim Wasserman, VP of Product Management at OnLogic. "Our customers shared a need for a rack-mountable system that includes advanced processing power, remote management capabilities, and the ability to integrate a wide range of graphics processing, networking, and connectivity solutions. We took that input and combined it with our two decades of experience in building reliable edge computers to create the Axial AC101 Edge Server."
Harnessing the power of 13th Gen Intel Core processors, the Axial AC101 Edge Server empowers users with on-premise data aggregation, helping save on bandwidth usage by reducing the quantity of data sent to the cloud while minimizing latency. The system can be configured with up to a 24-core, 32-thread 13th Gen Intel Core i9 processor. Intel's performance hybrid architecture with Intel Thread Director helps optimize performance & efficiency.
A dedicated Baseboard Management Controller (BMC) provides remote access, enabling real-time configuration changes and insight on operating state and system health. The BMC also gives users access to features including Intelligent Platform Management Interface (IPMI) 2.0 and RedFish (RESTful) APIs, and a secure web-based user interface providing system status, event monitoring, logging, and remote KVM. Users have full access to all features offered by the system's BMC without any additional fees.
With a shallow depth of just 515mm (less than 21") in a single rack unit, the Axial AC101 supports full height, full length PCIe expansion devices up to 150W. Dedicated graphics cards or additional I/O can be configured for specialized applications like multi-camera AI inference or computer vision. Meanwhile, onboard redundant power supplies and integrated physical security features like a locking front panel and case intrusion detection help protect the integrity of business-critical information.
The Axial AC101 is eligible for OnLogic's Extended Support Program, which provides a 5-year warranty, 24/7 technical assistance and additional services to support system deployments well into the future.
The new server will make its public debut at a pair of upcoming industry events. The Axial AC101 will be on display at Automate 2023 in Detroit, Michigan beginning May 22nd. OnLogic also plans to have the system on hand at the upcoming Red Hat Summit, which kicks off in Boston, Massachusetts on May 23rd. Red Hat Summit, the premier enterprise open source event, is the largest customer-focused event from the makers of Red Hat Enterprise Linux, the world's leading enterprise Linux platform that enables applications across the hybrid cloud, from the datacenter to public clouds to the edge.
"Red Hat Enterprise Linux brings the trust, flexibility and innovation of the world's leading enterprise Linux platform to deployments and workloads at the network's edge, providing a consistent platform that stretches from the datacenter to multiple public clouds to edge operations," says Ryan King, Senior Director, Hardware Partner Ecosystem, Red Hat. "We are pleased to collaborate with OnLogic to support its Axial AC101 edge server on Red Hat Enterprise Linux to help enable businesses to better respond to user interaction and data more efficiently for edge applications."
OnLogic's AC101 is available to configure and purchase now by visiting www.onlogic.com/ac101. OnLogic Solution Specialists can also be reached by emailing info@onlogic.com or calling 802-861-2300.
About OnLogic:
OnLogic is a global industrial computer manufacturer who designs highly-configurable, solution-focused computers engineered for reliability at the IoT edge. Their systems operate in the world's harshest environments, empowering customers to solve their most complex computing challenges, no matter their industry. Founded in 2003, the company has offices in the U.S., the Netherlands, Taiwan and Malaysia. OnLogic has helped more than 70,000 customers worldwide advance their ideas with computers that are designed to last, built to order and delivered in days. Learn more at www.onlogic.com or on YouTube at www.youtube.com/onlogic.
Featured Product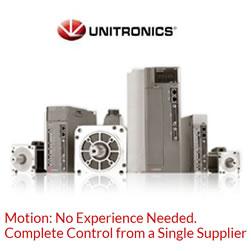 Unitronics' line of AC Servo Drives & Motors changes the traditional approach to motion control. They are simple to set up and painless to program. Unitronics Servos simplify implementation of motion applications while minimizing complexity and reducing development time. Some of the easy-to-use features in this new line include implementing motion control easily with ready-made motion code, embedded diagnostic tools, and automatic communication setup.