Forward-thinking manufacturing technology company has shaped the B2B selling and buying experience for manufacturers and buyers across the globe
CHICAGO and STOCKHOLM, April 13, 2023 — Tacton, manufacturing's Configure, Price, Quote (CPQ) SaaS partner for simplifying sales in complex configuration, is celebrating its 25th anniversary of leading the manufacturing industry, bringing innovations in sustainability, advanced product configuration, and smart, subscription-based services to change the way manufacturers do business.

Manufacturing goods has always—and will always—require customization, and the number of interdependencies required to create those goods is growing at an exponential rate. Tacton was ahead of its time 25 years ago when it created a manufacturing-specific CPQ technology to bring efficiency, sustainability and profitability to product variability.
Today, Tacton continues to deliver technology and service solutions that anticipate tomorrow's trends. Tacton's CPQ solutions enable smooth and resilient end-to-end operations, while delivering a flawless digital customer experience when selling complex equipment and related services. With 75,000 active users of Tacton licenses today, Tacton customers, on average, see a 34% increase in efficiency related to time spent by sales creating a quote, a 30% increase in sales volume and boost their profit margins by 20% by decreasing order errors and offering fewer discounts.
Tacton's CEO Bo Gyldenvang notes that Tacton's forward-thinking approach is what has driven the company's success over the course of 25 years.
"Tacton has been a leader in the manufacturing space for 25 years, and we expect to stay a leader for the next 25. We have long been recognized by our customers and influencers for the innovative technology and vision we bring to the manufacturing sector, consistently receiving recognition from global research powerhouses, like Gartner, in leaders quadrants," said Gyldenvang.
"While other technology vendors are starting to prepare their platforms for what's next, we have already prepared our platform for the trends we see in the market, such as sustainability, and a move to subscription models," said Nils Olsson, chief strategy officer at Tacton. "We are decades ahead of what any generalist vendor would be able to provide in the industry, bringing our manufacturing customers into the future."
Tacton's market-leading product capabilities and customer focus in solving their most pressing configuration problems has helped the company grow from a Swedish configuration management startup to a global CPQ SaaS vendor, with customers including international manufacturing companies such as Siemens, Xylem and ABB.
"Throughout our 25-year history, global manufacturers have trusted Tacton to accelerate their revenue goals while revolutionizing their sales experience, and our momentum in shaping this sector's digital transformation isn't close to slowing down. Last year alone we achieved a 62% year-over-year increase in ARR in North America and grew our customer base by 43%, with similar growth expected going forward," said Sriram Ramadurai, vice president of product marketing at Tacton.
"Due in large part to the technologies we've brought to the industry, the way manufacturers do business has forever changed," said Jesper Alfredsson, chief product officer at Tacton. "By focusing deeply on the selling experience of manufacturers, our game-changing innovations in CPQ, including CAD Automation, 3D/AR Visualization and Subscription Pricing, continuously reimagine how industrial products and services are offered for a sustainable world."
For more information on Tacton and its market-leading configuration technology:
- Book a demo and see how Tacton can help your company increase efficiencies, sales volume and net profit
- Follow thought leaders shaping the the future of sales in manufacturing at the Tacton Blog
- Download the ultimate guide to staying up to date with the latest customer experience trends in manufacturing
- Gain unmatched insights on how CPQ can help reduce environmental impact and reach your sustainability goals
About Tacton
Tacton is a leading SaaS company trusted by global manufacturers. Tacton Trusted Configuration simplifies sales for manufacturers of complex products. Tacton's Configure, Price, Quote software is named a Leader by Gartner in the Magic Quadrant for CPQ Application Suites and is recognized for its advanced product configuration and visualization capabilities. Tacton's founders pioneered computer-based product configuration which today powers Tacton CPQ and CAD Design Automation. Since 1998, Tacton is trusted by global customers such as ABB, Daimler, MAN, Scania, Siemens, Xylem, and Yaskawa. It is co-headquartered in Chicago and Stockholm, with regional offices in Karlsruhe, Warsaw, and Tokyo.
Follow Tacton on LinkedIn and Twitter.
Featured Product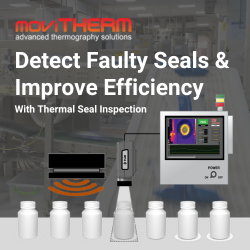 MoviTHERM's Thermal Seal Inspection (TSI) solution provides precise and reliable detection of defects in a variety of packaging types, including pouches, bags, blister packs, bottle caps, and more. By detecting defects in your packages, the TSI solution helps increase efficiency in your production line and ensures top-quality packaging is delivered to your customers every time. With state-of-the-art technology and an experienced team, MoviTHERM is dedicated to delivering accurate inspection solutions and peace of mind to its clients. Contact MoviTHERM today to learn more about their thermal seal inspection solution.