Datalogic will be exhibiting its products at this year's ProMat show, catering to the entire supply chain. Their offerings include mobile computers, stationary industrial scanners, and handheld scanners.
Datalogic, a global technology leader in the automatic data capture and factory industrial automation markets, will showcase intelligent vision solutions for your entire supply chain needs during this year's ProMat show at McCormick Place in Chicago on March 20 - 23. Datalogic mobile computers, stationary industrial scanners, and handheld scanners ensure visibility from sorting, shipping, and receiving to last-mile activities, such as delivery confirmation and signature capture.

Joining over 1,000 of the world's leading manufacturing and solution providers, Datalogic will welcome visitors into booth S3541 to experience live demos of Datalogic's offerings that bring intelligent vision to your complete supply chain needs. Datalogic sensors and vision systems track parcels and shipments as they move from the manufacturer, through the distribution center and warehouse to the carrier.
Datalogic technological solutions and demonstrations being shown in booth S3541 will include:
Matrix™ Series: The Matrix Series consists of high-performance image-based ID scanners, designed for industrial parcel and object traceability in all factory automation applications, intralogistics, and logistics industries.
Matrix 320 5MP: The Matrix 320 5MP is the new image-based barcode reader developed by Datalogic to solve traceability applications in intralogistics, distribution centers, 3PL, e-commerce, and retail logistics.
PowerScan™ 9600: The PowerScan 9600 Series is the top-performing industrial handheld scanner with an ultra-rugged industrial design. Unmatched 1D/2D, postal code, OCR, DotCode, and Digimarc symbologies reading performance. The new Auto Range model has a powerful autofocus system, allowing the operator to easily read a close-up barcode and a code at the top of a warehouse rack.
Skorpio™ X5 XLR: The Skorpio X5 XLR mobile computer offers a choice of linear imagers, standard 2D imagers, Mid-Range imagers, and the unparalleled 2D near-far high-performance Extra-long Range (XLR). The innovative Extra-Long Range imager is perfect for any application where the same device needs to seamlessly read codes at different distances, up to 20 m. The Datalogic ISV Partner Team will be on hand to introduce the new ISV Partner Program. This program is designed to foster partnerships with the ISV community through marketing, sales, and technical support programs.
Mass Flow Detection System (MFDS): Datalogic's advanced solution that enables automated data collection for non-conveyable parcels. MFDS increases process efficiency by automating 4 operations:
DETECT items even touching or running side by side on large conveyor belts (up to 1.5 m);
DIMENSION items, either regular or irregularly shaped, providing LFT-certified measurements;
DECODE barcode information on labels and merge it to the respective item;
DEPICT items by capturing and saving respective images.
WebSentinel™ PLUS Investigator: The WebSentinel PLUS is a very advanced monitor and information collector. It offers key features, benefits, and insights to end users and system integrators specializing in factory automation and transportation and logistics. The ability for real-time analysis and corrections results in increased throughput and decreased downtime on the line, turning big data into actionable intelligence.
Memor™ 11: Preview the Memor 11 mobile computer with enhanced processing capabilities, up-to-date operating systems, and superior scanning performance, whose versatility enables the mobile workforce to meet the needs of the most common retail, warehouse, manufacturing, and transportation and logistics applications.
Please visit us in booth S3541 to meet with our industry managers, product managers, and sales executives. We look forward to seeing you!
Featured Product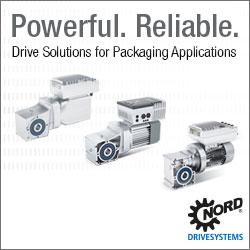 NORD's redesigned line of small CLINCHER parallel gear units showcase increased power and torque capacity for a variety of applications. These re-engineered versions will be replacing the existing SK0182NB, 0282NB, and 1382NB units. They are lightweight, have improved heat dissipation, are more cost-effective, and are available with NORD nsd tupHTM sealed surface conversion for wash-down and extreme environments.