Tata Consultancy Services' New Solution Uses AI, 5G Connectivity and Edge Compute to Make Production Self-Monitoring, Self-Diagnosing, Self-Optimizing, and Self-Learning
MUMBAI, March 14, 2023: Tata Consultancy Services (TCS) (BSE: 532540, NSE: TCS) announced the launch of its 5G-enabled solution, TCS Cognitive Plant Operations Adviser for the Microsoft Azure Private Mobile Edge Computing (PMEC) platform, to help companies in industries like manufacturing, oil and gas, consumer packaged goods, and pharmaceuticals transform production, harnessing AI and machine learning to make it more intelligent, agile and resilient.

TCS Cognitive Plant Operations Adviser is a composite AI solution for manufacturing and process plant operations that uses Microsoft Project Bonsai low-code, AI platform, for which TCS is a launch partner, to provide insights and information to plant operators for taking real-time and autonomous decisions. A part of TCS' Enterprise 5G Edge suite, the solution integrates with Microsoft Azure private MEC to help plant operators reduce waste, increase equipment uptime, and zero-out safety incidents.
The TCS solution does this by bringing together all core elements needed to build intelligent digital twins of the plants, systems, processes, and plant operation through the curation and reasoning of digitally captured domain and tacit knowledge. It delivers high-capacity compute capability with secure, reliable network connectivity at the production site, supporting self-monitoring, self-diagnosing, self-optimizing, and self-learning capabilities.
"We are helping our clients with plant operations to build predictive and prescriptive capabilities into their production for superior outcomes using powerful cognitive and edge compute capabilities. We are delighted to launch the 5G-enabled TCS Cognitive Plant Operations Adviser solution, as part of our Enterprise 5G Edge suite of solutions on Microsoft Azure," said Siva Ganesan, Head, Microsoft Business Unit, TCS.
"The convergence of edge compute, 5G networking and AI simplifies the design and delivery of modern connected applications like TCS' Cognitive Plant Operations Adviser, driving factory automation, worker safety, productivity, and sustainability for global manufacturers. Leveraging Azure services brings simplicity to deliver and manage the solution at scale," said Shriraj Gaglani, VP Product Management, Microsoft.
With more than 1,000 successful Azure engagements completed for hundreds of global customers, TCS' Microsoft Business Unit is one of the most recognized partners in the Microsoft ecosystem. In addition to winning the 2022 Microsoft Partner of the Year for Global SI & Advisory Digital Transformation, Retail & Consumer Goods, and SAP on Azure, it was also recognized in nine other global categories. TCS is an Azure Expert Managed Service Provider, has achieved all 6 Microsoft Partner Designations, has received a record-setting 17 Microsoft Advanced Specializations, and is a member of the 2022/2023 Inner Circle for Microsoft Business Applications. To learn more, visit tcs.com/microsoft-business-unit.
About Tata Consultancy Services (TCS)
Tata Consultancy Services is an IT services, consulting and business solutions organization that has been partnering with many of the world's largest businesses in their transformation journeys for over 50 years. TCS offers a consulting-led, cognitive powered, integrated portfolio of business, technology and engineering services and solutions. This is delivered through its unique Location Independent Agile™ delivery model, recognized as a benchmark of excellence in software development.
A part of the Tata group, India's largest multinational business group, TCS has over 613,000 of the world's best-trained consultants in 55 countries. The company generated consolidated revenues of US $25.7 billion in the fiscal year ended March 31, 2022, and is listed on the BSE (formerly Bombay Stock Exchange) and the NSE (National Stock Exchange) in India. TCS' proactive stance on climate change and award-winning work with communities across the world have earned it a place in leading sustainability indices such as the MSCI Global Sustainability Index and the FTSE4Good Emerging Index. For more information, visit www.tcs.com
Featured Product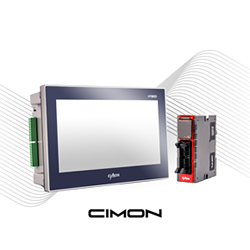 CIMON-XPANEL is a Windows CE based HMI unit. A combination of software and hardware, suitable for various monitoring needs within industrial sites.