The newly introduced iQ-R Series CC-Link IE TSN Plus module allows dual network communication, easy configuration, simple diagnostics using one software environment, simplified wiring, and much more.
Mitsubishi Electric Automation, Inc. announces the iQ-R Series CC-Link IE TSN Plus module which supports CC-Link IE TSN and EtherNet/IP™ networks in one module. CC-Link IE TSN is an open industrial network technology that combines gigabit Ethernet bandwidth with Time Sensitive Networking (TSN) allowing for high-speed motion control, safety, and standard communication I/O devices. EtherNet/IP networks allow for communication with third party devices. The new iQ-R Series CC-Link IE TSN Plus module allows users to connect CC-Link IE TSN devices to port 1 and EtherNet/IP devices to port 2 without affecting CC-Link IE TSN communication performance. The module functions also include easy configuration in PLC programming software, saved space on a PLC rack, centralized control of servo motors, and dual ports that allow for customization of use to best fit your needs.

Aside from the main benefit of dual support of networks that were once separate entities, a user will appreciate the saved cost of not having to purchase and implement additional devices, easy network troubleshooting to reduce downtime, and an overall decrease in the need for additional spare parts.
"Due to the great demand for a module that reduces the need for additional networking products, we are pleased to bring the iQ-R Series CC-Link IE TSN Plus module to the market. We are confident that this product will fulfill the demand of our customers and give them a solution that will save them money, space, and time.", said Agnieszka Zupancic, product manager at Mitsubishi Electric Automation, Inc.
https://us.mitsubishielectric.com/fa/en/news-and-events/2023/march/cclink-ie-tsn-pluspr/
Featured Product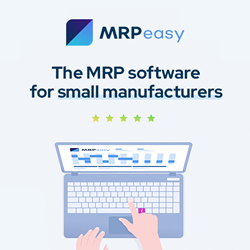 Always know what you have in stock and what you'll need to fulfill orders. Never forget to order parts on time or fail to notice a late delivery from your vendor. Easily create manufacturing orders and schedule them automatically according to resource availability or delivery deadline. Generate accurate cost and lead time estimates and provide customers with quick quotes. Receive notifications when orders are late or inventory levels reach a critical point. Ensure seamless communication between sales, production, warehousing, procurement, administration, and finance. Integrate with popular accounting, CRM, and e-commerce apps. MRPeasy is an ERP software for small manufacturers that gives you all that and more. Our users report a 54% average improvement in the overall performance of their business and a 42% increase in on-time deliveries. Try for free, no credit card needed.