NORD's construction industry solutions include heavy-duty MAXXDRIVE industrial gear units, versatile helical bevel gear units, robust parallel shaft gear units, and efficient electric motors.
NORD DRIVESYSTEMS will be exhibiting at this year's CONEXPO - CON/AGG March 14th - 18th in Las Vegas, NV. CON/AGG is North America's largest construction trade show and creates one convenient place for attendees to learn about the future of construction technology and heavy-duty solutions from industry leaders. NORD's construction solutions focus on reliability, high-efficiency, and versatility.

NORD will feature the following products at Booth S-85214:
MAXXDRIVE® XD industrial gear units are NORD's heavy-duty solution designed specifically for crane and hoist applications. They feature an extended center distance to allow for a U-shaped design with the cable drum and motor on the same side of the gear unit. Compared to NORD's standard, compact MAXXDRIVE series, the XD center distance has been increased by 35%. The MAXXDRIVE XD series includes 3-stage and 4-stage reductions with same overall unit dimensions and center distances for a standardized design, and various input and output shaft and coupling options for easy adaptation to applications.
MAXXDRIVE® industrial gear units deliver output torques up to 2,495,900 lb-in, high load capacity, and a long service life. They feature NORD's trademarked UNICASE™ housing design that ensures precise positioning of bearings and shafts, quiet operation, low maintenance, and increased safety with all joints and components sealed. Due to their robust housing, they can withstand a wide variety of ambient conditions and function both in dusty environments as well as in environments with high humidity, heat, and larger temperature differences. MAXXDRIVES are highly configurable and feature a wide range of options including various output shaft options, output flanges, motor attachments, and input options.
MAXXDRIVE® XT industrial gear units drastically reduce spare parts costs and downtime through their universal, symmetrical housing design for mirror image installations. These units were developed for maximum thermal power and mechanical load capacities and due to their ribbed housing, optimized axial fans, and air guide covers, they can achieve very high thermal ratings without the need for external cooling measures. Modularly attached backstops enable easy maintenance access without costly downtime.
NORD's UNICASE™ helical bevel gear units offer a wide performance range of 0.16 - 268 hp and torque up to 442,537 lb-in. Specialized heavy-duty bearings and spread bearing/flange mount designs enable these units to produce high load capacity, minimum backlash, and long service life. They also achieve a low Total Cost of Ownership (TCO) due to their low maintenance and high efficiency for low operating costs. With numerous shaft designs, mounting options, and bearing concepts, these versatile units are adaptable to countless applications.
UNICASE™ parallel shaft gear units provide reliable operation in a compact, robust design. Their single piece housing protects internal components from debris while delivering quiet operation, a long service life, and requiring very low maintenance. They feature various VL bearing options for maximum radial and axial load capacity, extensive shaft designs, as well as versatile foot, flange, and shaft mounting options. A wide range of configurable, specialized solutions are available with 15 case sizes to choose from, performance up to 268 hp, and torque up to 885,075 lb-in.
Control cabinet variable frequency drives from NORD offer scalable functionality in a compact, cost-effective design. They are compatible with both synchronous and asynchronous motors, provide a high degree of performance, and include functional safety options. NORDAC PRO SK 500E VFDs offer performance up to 215 hp and include an integrated Ethernet interface with various optional modules for extended functionality. NORDAC PRO SK 5OOP VFDs are available in 5 flexible frame sizes and feature multiple easy to use interfaces, high precision regulation and large overload capacities, and full PLC functionality for adaptability to a wide range of applications.
NORD supplies a wide range of synchronous and asynchronous motors that deliver high efficiency, reliability, and significantly reduce energy costs. These motors conform to global energy guidelines and certifications and are designed for combination with NORD's full line of gear units and electronic control products for maximum performance. Explosion protected versions are also available for safe operation in hazardous environments such as dust and gas atmospheres. Add on options such as brakes, encoders, external cooling fans, and environmental protection features are also available to meet the needs of specific application requirements.
Learn more about NORD's construction solutions before attending the show: https://digital-trade-fair.nord.com/en-us/conagg
Featured Product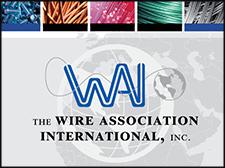 The Wire Association International (WAI), Inc., founded in 1930, is a worldwide technical society for wire and cable industry professionals. Based in Madison, Connecticut, USA, WAI collects and shares technical, manufacturing, and general business information to the ferrous, nonferrous, electrical, fiber optic, and fastener segments of the wire and cable industry. WAI hosts trade expositions, technical conferences, and educational programs.