AUBO Robotics announces the grand opening of a new Michigan based office which will serve as the US Headquarters for their newly launched dedicated US branch, AUBO Robotics USA.
DETROIT, MI - Today, AUBO Robotics, Asia-Pacific's leader in the production and research & development of precision collaborative robots (Cobots), announced the grand opening of their Michigan based US office. Conveniently located outside of Metro Airport in Romulus Michigan, it will serve as headquarters for AUBO's newly launched dedicated United States branch: AUBO Robotics USA Inc.

The Metro-Detroit office will be a multifaceted facility. In addition to serving as the headquarters for AUBO Robotics USA, it will house:
- A comprehensive training center to educate distribution partners, customers, and sales teams on how to find automation success with AUBO's precision-focused collaborative robots.
- An expansive show floor to demo AUBO's impressive i-series Cobots and showcase AUBO's contribution to the latest advancements in collaborative robotics.
- A technical support center with dedicated engineers to service AUBO Robotics' U.S. customers.
- A dedicated warehouse allowing for reduced lead times on complete arms and expedited part delivery across North America.
"The launch of the Michigan office marks AUBO Robotics' continued dedication and commitment to building a more collaborative future with our US customers." Commented Waterman Cao, General Manager of AUBO Robotics USA "In our eyes, automation and Cobots should be accessible to every manufacturer, regardless of scale or size. So, we're investing deeply in creating a space and products for the U.S. market that puts safety, precision, and innovation first while bringing value back to the customer."
Since their introduction to the market in 2015 AUBO's flagship line of i-Series collaborative robots took the APAC automation industry by storm thanks to their accessibility to the many small and medium enterprises. Featuring a payload capacity from 3-20kg across the series range, fully open source code, and a simplified visual application interface to simplify operation: the AUBO i-Series are certified EN ISO 13849-1:2015(PL=d, CAT 3), CE, UL, KCs, CR, SEMI S2, and Cleanliness Class 5 inspected with level-10 collision detection while boasting up to ±0.026mm high-precision repeatability.
About AUBO Robotics USA:
Based in Detroit, Michigan, AUBO Robotics USA is the United States branch of AUBO Robotics. Established in 2015, AUBO Robotics revolutionized the research & development, engineering, and production of collaborative robots across APAC. Today, AUBO's mission is to empower collaboration, fuel innovation, and enable human progress through automation. AUBO's precise, accessible, and simple to program i-Series of collaborative robots are trusted across the globe in industries like automotive, health, service, food, and more.
Featured Product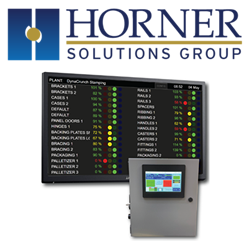 Horner Solutions Group offers a pre-programmed solution that is fast and easy to implement. No development on the user end, just a simple setup on the touchscreen and you can start monitoring and collecting data in minutes. With the ever-growing need for production data in the industry, we wanted to help bridge the gap for many production companies to be able to start collecting accurate and functional OEE (Overall Equipment Effectiveness) data within just a few minutes of setup, as opposed to the weeks/months many companies spend developing their own solution from scratch. For any customers that may have a need outside of the typical product mold, we also offer engineering services for custom hardware and software solutions of various types.