End-to-end services help data leaders accelerate data warehouse migration to the cloud using proprietary automation tools, frameworks and experience for optimal Data Migration, ETL Migration and BI Modernization.
Bitwise, a Chicago-based technology consulting and services company, introduces its Data Platform Cloud Migration Suite, an end-to-end set of services leveraging proprietary automation tools and frameworks to help enterprises accelerate migration of data warehouse and business intelligence to the cloud, at PASS Data Community Summit today in Seattle.

Bitwise Data Platform Cloud Migration Suite addresses major challenges faced by data and analytics leaders seeking to take advantage of modern cloud-based data lake architectures and machine learning capabilities by automating the most difficult parts to migrate like legacy on-premise ETL, data objects and orchestration.
To address these challenges, Bitwise combines its proven automation tools, utilities and frameworks with over 10 years of migration experience into dedicated practices for Data Migration, ETL Migration and BI Modernization with a complete migration methodology covering Assessment, Conversion, Validation and Implementation.
"At Bitwise, automation is central to our thinking. There are many migration tools offered by the leading cloud providers, but from our experience, we have found certain gaps in providing a seamless migration solution," says Shahab Kamal, Chief Technology Officer at Bitwise. "Anytime we find a hole in the cloud-native offerings, we develop a tool or utility to fill it. As a result, we created a suite of accelerators to reduce the time, complexity, and cost of data platform cloud migration and adoption."
Bitwise introduces its Data Platform Cloud Migration Suite at PASS Data Community Summit where it is an exhibiting sponsor. The event is one of the largest gathering of data platform professionals and hybrid conference with a global data audience, both online and in-person.
"PASS Data Community Summit brings together a large audience of data professionals making it a natural fit for us to introduce our Data Platform Cloud Migration Suite," says Ankur Gupta, Chief Executive Officer at Bitwise Inc. "We closely partner with Microsoft, a premier sponsor of the event, to provide a seamless solution to migrate to cloud-native services like Azure Data Factory and Synapse using our proprietary automation tools such as ETL Converter and Cloud Data Migration Tool."
Visit Bitwise at booth 424 for demos and information on migration capabilities, including:
Informatica ETL migration to Azure Data Factory (ADF)
SSIS ETL migration to Azure Data Factory (ADF)
Informatica and DataStage ETL migration to AWS Glue Studio
Teradata migration to AWS Redshift
SQL Server migration to Azure Synapse
Follow live PASS Data Community Summit updates at #PASSDataCommunitySummit.
Featured Product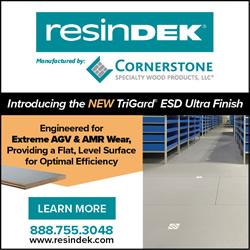 ResinDek flooring panels are designed for elevated platforms such as mezzanines, pick modules, and work platforms. They have the proven structural integrity to support dynamic and static rolling limits from 2,000 to 8,000 lbs. ResinDek flooring panels are available in a multitude of options that are customized for load capacities, required finish type, volume and type of traffic including heavy rolling pallet jack loads and robotic traffic with AGVs and AMRs.