Optics Development Manager, Eric Eisenberg, introduces "A Flexible Solution for XR Display Testing: Replicating the Human Eye in More Headsets and Smart Glasses" during the virtual conference, taking place Sept. 20-21.
Radiant Vision Systems, a leading provider of test and measurement solutions for displays and light sources, announces that it will sponsor and lead a presentation at the upcoming DSCC (Display Supply Chain Consultants) AR/VR Display Forum. This two-day virtual conference takes place September 20-21, 2022, with presentations broadcasted from 6:00 A.M. to 7:00 P.M. Pacific Time (PDT) and full event access to recordings for 30 days after the event for registered attendees. Radiant's presentation will be led by Optics Development Manager, Eric Eisenberg, who will introduce "A Flexible Solution for XR Display Testing: Replicating the Human Eye in More Headsets and Smart Glasses" beginning with a live broadcast on Tuesday, September 20, from 4:30 to 5:30 P.M. PDT.

The DSCC's AR/VR Display Forum is fully dedicated to emerging display technologies for augmented (AR), mixed (MR), and virtual reality (VR)—collectively referred to as extended reality (XR) devices. The conference features speakers from industry leaders who will share their insights on the latest innovations in display manufacture and commercialization that enable immersive headsets with higher resolution, wider fields of view, and greater efficiency. As Platinum Sponsor of the conference, Radiant Vision Systems supports knowledge exchange and solutions development among professionals in attendance as well as fellow conference speakers and sponsors such as Mojo Vision, Magic Leap, Coherent, and others. Radiant recognizes the critical impact of display quality on the success of headsets and smart glasses and seeks to optimize XR visual performance by providing manufacturers with flexible test and measurement solutions to address a greater range of device and display specifications.
"Radiant's visual inspection solutions leverage scientific imaging photometers and colorimeters and specialized optics to emulate the human visual experience within unique device form factors and visualization parameters," states speaker Eric Eisenberg. "As a prerequisite, an instrument used to test the visual quality of an XR display should capture the field of view of an immersive display as seen from the user's eye position in the headset. But display types, projection methods, headset hardware, and other variables of XR design continue to evolve. Increasingly, XR manufacturers are investing in custom equipment to meet specific measurement needs, creating a huge time and cost burden. There simply isn't room for lengthy and expensive development cycles in an industry as competitive and rapidly changing as XR. Manufacturers need to remain nimble and be quick-to-market. What's needed is a more flexible measurement solution that allows manufacturers to deploy XR display testing more easily and cost-effectively for unique devices."
During his presentation "A Flexible Solution for XR Display Testing: Replicating the Human Eye in More Headsets and Smart Glasses" at the AR/VR Display Forum, Eisenberg will introduce a new XR display test system from Radiant—the XRE Lens—which leverages a patent-pending modular design to meet a more diverse measurement needs out of the box. The presentation will describe measurement challenges and how they are addressed by features of the lens's optical design, including electronic focus control, a range of imaging resolution and FOV options, and folded ("periscope") optical geometries to measure the visual performance of XR devices with various focus ranges, display specifications, and form factors. The advantage of the solution's flexible design is that it offers XR manufacturers a means of quickly selecting and deploying a more tailored and comprehensive XR display test system, which continues to replicate human vision in headsets, in many cases eliminating the need for costly custom equipment.
Early bird pricing for the AR/VR Display Forum ends today, September 7. Prospective registrants can continue to apply Radiant's Discount Code Radiant10 to receive 10% off registration fees leading up to the event. Registration includes access to live broadcasts on September 20-21 as well as recordings of all presentations for 30 days after the event. Information and registration for the DSCC AR/VR Display Forum is available at https://www.displaysupplychain.com/events/ar-vr-display-forum-2.
Information about Radiant Vision Systems can be found at www.RadiantVisionSystems.com.
About Radiant Vision Systems
Radiant Vision Systems works with world-class brands and manufacturers to deliver creative visual inspection solutions that improve quality, reduce costs, and increase customer satisfaction. Radiant's legacy of technology innovation in photometric imaging and worldwide install base date back more than 30 years and address applications from consumer electronics to automotive manufacturing. Radiant Vision Systems product lines include TrueTest™ automated visual inspection software for quality control, and ProMetric® imaging colorimeters, photometers, and light source measurement systems. Radiant is headquartered in Redmond, Washington, USA, with strategic offices in California, Michigan, China, South Korea, and Vietnam. Radiant has been a part of Konica Minolta's Sensing Business Unit since August 2015. For more information, visit www.RadiantVisionSystems.com.
Press Contact:
Shaina Warner
Marketing Program Manager
Radiant Vision Systems
+1 (425) 844-0152 x587
Shaina.Warner@RadiantVS.com
Featured Product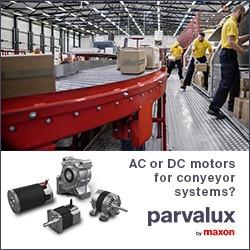 An effective, reliable and efficient drive system is essential to any material handling equipment, whether it's a motor-assisted tow truck, a barrel lifter, a robotic vehicle or a complete high-capacity parcel sorting hub; Parvalux designs and manufactures an exciting range of AC, DC brushless and brushed motors and our drives are valued for their performance and reliability.