NORD will feature their IE5+ product portfolio consisting of DuoDrive integrated gear unit/motors, IE5+ ultra-high-efficiency synchronous motors, and NORDAC ON/ON+ intelligent variable frequency drives.
NORD DRIVESYSTEMS will exhibit new, intelligent drive solutions at PACK EXPO International October 23rd - 26th in Chicago, IL. NORD designs, engineers, and manufactures complete solutions focused on energy efficiency, reliability, and versatility. Their modular product portfolio offers more than 20,000,000 standard combinations of gear units, motors, and control products that fit precise needs without costly custom components.

PACK EXPO attendees can find these efficient drive solutions on display at Booth N-4974.
IE5+ Synchronous Motors
IE5+ permanent magnet synchronous motors (PMSM) deliver next level efficiency and performance from 0.5 - 5.0 HP. Two compact designs are available - a hygienic version with smooth surfaces for wash-down applications (TENV design) and a ventilated version for optimized heat dissipation with high overload capacity (TEFC design). IE5+ motors follow NORD's modular concept to accommodate a wide range of packaging applications.
nsd tupH™ Sealed Surface Conversion System
NORD's nsd tupH Sealed Surface Conversion System provides a smooth, easy-to-clean surface that is resistant to corrosion, acids, and alkalis, and unlike paint, won't blister or flake. The treatment is applied to aluminum-alloy housings - permanently transforming the metal's physical properties and creating a surface that is up to 7 times stronger than the original. When compared to stainless steel, nsd tupH provides a lightweight, cost-effective alternative that is more readily available in a variety of gearmotor options. In addition to this innovative wash-down surface treatment, NORD units featuring nsd tupH are also equipped with stainless steel shafts, hardware, and special sealing rings to further protect against unwanted moisture entering the gearbox and damaging components.
DuoDrive Integrated Gear Unit and Motors
The DuoDrive design integrates a high-efficiency IE5+ motor with a single-stage helical gear unit in one, compact housing. This solution combines the benefits of NORD's modular product system with the possibility of reducing system variants through constant torque over a wide speed range. These drives deliver performance of 0.5 - 4 HP and produce an extremely high system efficiency of up to 92% - making them well-suited for packaging systems. DuoDrive also features high power density, quiet operation, and simple Plug-&-Play capabilities for fast commissioning.
NORDAC® ON/ON+ Variable Frequency Drives
NORDAC ON/ON+ variable frequency drives offer intelligent control of packaging systems with integrated PLC functionality, integrated multi-protocol Ethernet interface, and POSICON positioning. They are compatible with operation of asynchronous and synchronous motors and can be wall-mounted or motor-mounted for versatile installation arrangements to meet application needs. These VFDs deliver performance up to 1.27 HP and feature full Plug-&-Play capabilities for a reliable, economic solution within IIoT environments.
LogiDrive Complete Drive Solution
The complete LogiDrive® solution provides an energy-efficient, standardized, and service-friendly drive system that is ideal for high-volume warehousing, manufacturing, and packaging systems. The choice of IE4 or IE5+ Permanent Magnet Synchronous Motor (PMSM) technology enables drives to maintain high efficiency even within partial load ranges and at low speeds. LogiDrive also minimizes Total Cost of Ownership (TCO) throughout service life, providing a faster return on investment, and maximizing system availability. When NORD gear units and motors are paired with NORDAC LINK VFDs as a part of the LogiDrive system, a wide speed range with high precision regulation is achieved to deliver automation for stacker cranes, automated guided vehicles, a wide variety of conveyors, and more.
The LogiDrive solution consists of:
-High efficiency 2-stage bevel gearbox
-IE4 or IE5+ permanent magnet synchronous motor
-Decentralized variable frequency drive
-Power plug connector
-M12 connectors
-Incremental encoder
-Pre-assembled cables
-High overload capacity
-Standardized hollow shaft diameters
Condition Monitoring for Predictive Maintenance
With condition monitoring for predictive maintenance, operating and status data are recorded continuously or periodically to optimize the operational safety and efficiency of machines and systems. The data analysis provides important information to proactively maintain systems, avoid unplanned downtimes, and even determine the optimal time to change oil. Replacing time-based maintenance with status-based maintenance prolongs the service life of components and machines, increases system availability, and reduces service and material costs.
See these products and other packaging industry solutions by visiting the NORD Booth (#N-4974) at PACK EXPO International. www.nord.com
Featured Product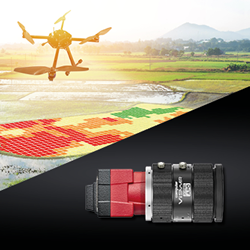 Allied Vision's compact and light weight Alvium SWIR (short wave infrared) cameras are the ideal choice to build cost-effective OEM systems used in embedded and machine vision applications. The cameras support a spectral range from 400 nm to 1700 nm at high quantum efficiencies. This allows to capture images in both the visible and SWIR spectra with a single camera and enables users to reduce overall system costs! Equipped with Sony's IMX990 and IMX991 SenSWIR InGaAs sensors, Alvium SWIR cameras deliver high image quality and frame rates. This makes them well suited for drones or handheld devices used in various industries such as, agriculture, mining, solar cell inspection or medical.