Upgraded VCSEL product platform for higher performance needed in demanding industrial applications // Increase in efficiency for optical sensing systems by less power consumption of new VCSEL // Single-mode VCSEL serves high-volume applications and highly integrated sensors // Multi-year contracts signed with multiple leading players in the oxygen sensing branch
Ulm, August 31, 2022 - TRUMPF Photonic Components, a global leader in VCSEL and photodiode solutions, presents a newly developed, state-of-the-art product platform for its single-mode VCSEL products for industrial and professional applications. VCSELs for optical sensing in industrial applications or test and measurement equipment in laboratories must be efficient and highly accurate because of their role in quality management, being used in quality and safety monitoring systems. These needs are addressed with the new state-of-the-art VCSEL platform. "It's great to see how the investments we made in the state-of-the-art manufacturing equipment are paying off, giving us optimum product and supply quality. Innovative product design and short product development cycles are addressing the rigorous demands on industrial applications, ranging from spectroscopic oxygen sensing to robust data communication links in CT scanners", says Ralph Gudde, VP Marketing and Sales at TRUMPF Photonic Components.

High output performance, but lower power consumption
The next generation of single-mode VCSEL products offers lower power consumption, while maintaining high output performance. This results in the higher energy efficiency of the VCSEL product. The single-mode VCSEL fulfills the highest performance standards, as it comes with a Gaussian-shaped beam profile and stable, linear polarization. The latter improves its illumination quality and resolution. Therefore, high-volume and highly integrated industrial applications are enabled with the new single-mode VCSEL, which is available in various wavelengths, going from 760 nm to 855 nm.
VCSEL ideal for industrial applications
Thanks to the easy operation, temperature and wavelength stability, and its polarization locking of the emitting light, the TRUMPF VCSEL products are ideal for industrial sensing technologies like spectroscopy and time-of-flight. TRUMPF manufactures its next generation high-volume single-mode VCSEL products at its headquarters in Ulm, Germany. "On the market side, we've also noticed that our leading customers highly value our continuous investments and commitments in this industrial business. We received several multi-year contracts from market leaders in oxygen sensing for our single-mode VCSEL solution in TO packages", Gudde adds. For easy product integration in industrial environments and for the smart integration of additional features, such as temperature control, the VCSELs are available in various packaging options, such as hermetically sealed TO packages with TEC and thermistor.
How the single-mode VCSEL serves many applications
VCSELs are used as a light source in various industrial processes and applications because they are highly reliable, and their light properties enable demanding sensing applications. In industrial robots for example, optical encoders serve as high-precision position control sensors. With its high-quality Gaussian-shaped beam profile and polarization-controlled emitted light, the next-generation single-mode VCSEL perfectly serves this application as a coherent light source. The outstanding reliability of the single-mode VCSELs leads to a high service life of 10 years or more. When it comes to in-situ measurements, VCSELs serve as reference lasers in FTIR spectrometers, enabling the quick identification of compounds in the environment. FTIR analysis is used in automotive, pharmaceutical, biomedical or clinical fields. The wavelength and power stability over time make the VCSEL the perfect infrared light source for this application. Another application field is in CT scanners in the medical field, in which the single-mode VCSEL serves as an optical link to read out detectors and in doing so, replaces copper interconnects.
Visit TRUMPF Photonic Components at CIOE 2022, hall 12, booth 12C39
About TRUMPF Photonic Components
TRUMPF Photonic Components is a global technology leader, supplying VCSEL and photodiode solutions for the consumer electronics, datacom, automotive, industrial sensing and heating markets. So far, more than two billion VCSEL chips and photodiodes have been shipped worldwide. The staff continues to drive its technological know-how, having been established for over 20 years now, to maintain its leadership position. The long-established technology was acquired by TRUMPF in 2019. The company has its headquarters in Ulm, Germany, with further sales locations in the Netherlands, China, Korea and the US.
TRUMPF Photonic Components belongs to the TRUMPF Group, a high-technology company that offers production solutions in the machine tool and laser sectors. TRUMPF is the world technological and market leader for machine tools used in flexible sheet metal processing, and also for industrial lasers and metal 3D printing. In the 2021/22 fiscal year, the company employed some 16,500 people and generated sales of about 4.2 billion euros (preliminary figures). With over 80 subsidiaries, the TRUMPF Group is represented in nearly every European country, in North America, South America and Asia. The company has production facilities in Germany, France, the United Kingdom, Italy, Austria, Switzerland, Poland, the Czech Republic, the United States, Mexico and China.
For more information about TRUMPF Photonic Components visit: www.trumpf.com/s/VCSEL-solutions
Featured Product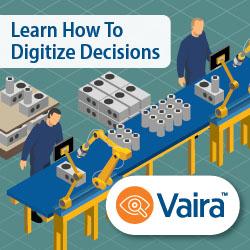 Vaira™ helps manufacturers digitize, automate, and upgrade error-prone manual processes and decisions to boost productivity and increase profits by helping humans make decisions consistent, reliable, and traceable. The camera-based solution is powered by a scalable suite of shop floor-ready apps built on proven machine vision and AI expertise for frontline manufacturing operations, with two-way integration to resource planning tools to help drive continuous analysis, insight, and improvements. Start digitizing immediately, streamlining processes customized to your unique requirements and reduce errors that lead to costs, delays, and quality concerns.