Latest advancements showcase the key to high productivity for the manufacturing industry, such as motion control for laser machining and 3D printing, linear motor stages, and hexapods for 6-axis metrology, in the PI booth at IMTS in Chicago, IL, starting September 12, 2022.
MTS (International Manufacturing Technology Show) is known as the largest and longest-running biennial trade show in North America for the latest advancements in manufacturing engineering and applications. In Chicago, IL, PI's booth will feature the latest state-of-the-art precision motion and automation technologies including precision gantry and hexapod robotics, linear motor actuators and stages, and interactive displays of nanopositioning components, with PI engineers on-hand to answer questions and help you find the right solution for your precision motion project in industry, research, or science.

PI's high precision solutions and motion systems find applications in additive manufacturing, laser processing and machining, metrology, optics and camera module assembly, chip manufacturing, wafer inspection, and aerospace. PI focuses on global growth markets such as Industrial Automation, Semiconductor Manufacturing, Silicon Photonics, Quantum Computing, High Resolution Microscopy, and Life Sciences.
XY / XYZ / 6-DOF Motion Solutions
PI excels at providing high precision motion solutions with industrial EtherCat® based motion controllers based upon your application need for XY, XYZ, or 6-DOF configurations, including gantry tables, air bearing stages, high speed linear stages, XY tables, and hexapod precision robots.
Can't make it to Chicago? You can take a look at a variety of performance automation for manufacturing applications covered by PI system technologies.
Another way to learn about the latest motion control technologies is by signing up to one of our precision motion design webinars at this URL: https://www.pi-usa.us/en/news-events/webinars/
Featured Product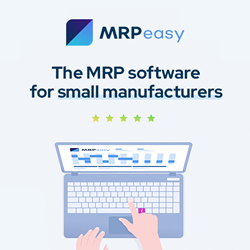 Always know what you have in stock and what you'll need to fulfill orders. Never forget to order parts on time or fail to notice a late delivery from your vendor. Easily create manufacturing orders and schedule them automatically according to resource availability or delivery deadline. Generate accurate cost and lead time estimates and provide customers with quick quotes. Receive notifications when orders are late or inventory levels reach a critical point. Ensure seamless communication between sales, production, warehousing, procurement, administration, and finance. Integrate with popular accounting, CRM, and e-commerce apps. MRPeasy is an ERP software for small manufacturers that gives you all that and more. Our users report a 54% average improvement in the overall performance of their business and a 42% increase in on-time deliveries. Try for free, no credit card needed.