With the new edgeAggregator, Softing offers a flexible, container-based solution for managing complex system architectures in OT/IT integration all the way to edge and cloud applications.
Data exchange plays a particularly important role in the integration of production and management levels up to edge and cloud applications. Already with a small number of servers and clients, the architecture becomes very complex. With the new edgeAggregator, Softing provides a central data integration layer that reduces complexity while addressing the large number of variables as well as managing access rights and special security requirements.

The edgeAggregator has three key functions:
1. As an OPC UA aggregation server, it handles the aggregation of up to 100 OPC UA servers and supports up to 25 OPC UA server endpoints.
2. As an IoT cloud gateway, it handles bidirectional data transmission with cloud applications via MQTT Publisher/Subscriber functionality.
3. As Security Supervisor, it is responsible for the central management of the security parameters of the OPC UA and MQTT connections, such as users and certificates, and acts as an "OPC UA Firewall" for protection against attacks.
As a Docker container, edgeAggregator can be easily configured and deployed as an edge solution or with central cloud platforms. The interface abstraction of edgeAggregator allows continuous adaptation and scaling of IoT solutions based on OPC UA and MQTT throughout the entire lifecycle. Users thus gain a high degree of flexibility while significantly reducing integration and configuration costs.
More information: https://industrial.softing.com/products/docker/edgeaggregator.html
Softing will present the new edgeAggregator at Achema 2022, Aug. 22-26, in Hall 11.0, Booth E16.
About Softing Industrial
Softing connects disparate automation components to feed data from the shop floor to the cloud for control and analytics. The company's products enable the monitoring and diagnosis of communication networks and thus ensure a reliable data flow. In this way, they create the basis for the optimization of production processes. For more information: https://industrial.softing.com
Featured Product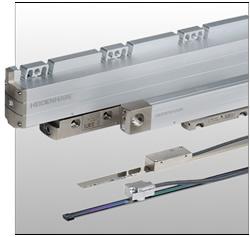 Nothing beats the positioning accuracy of linear encoders from HEIDENHAIN. Available in absolute and incremental versions and ideal for a variety of applications-including machine tools, semiconductor machines and medical machines-these measuring solutions combat a variety of issues that erode precision.