Balluff to showcase and speak at Automate 2022 in Detroit, June 6-9
FLORENCE, KY. May 27, 2022 - Balluff will showcase the latest trends in networking, vision, sensors and more at Automate 2022 Show and Conference, in Detroit, June 6-9. Produced by the Association of Advancing Automation (A3), Automate is the largest solution-based showcase of automation, robotics, vision, motion control, and more in North America.

Click to register here and get a free Expo Pass.
Balluff's experts will be in Booth #5404 ready to talk and present live demonstrations, including:
 Format Change
 Fastener Sequencing
 Standard Automation Sensors
 Level Detection 2.0
 Matrix Vision
 Gripper Sensing
 Multi-Frequency RFID
 Condition Monitoring
 Network Architecture
 IO-Link Interoperability
Other Balluff presentations, scheduled for Tuesday, June 7 at 2:15 p.m., include:
 Will Healy III (@WillAutomate), Balluff's Global Supply Chain Information Officer will present "Crash Course in Automation Sensors & Cables," a review of the most common sensor technologies in the market. In a light and easy style for any technical skill level, he'll discuss:
• How they work
• Best targets
• Expected sensing ranges
• PNP vs. NPN
• Basics of wiring sensors
• Automation standards
 Tom Knauer, Global Industry Manager, Robotics & Factory Automation will present "Using Predictive Technologies for Your Operations." Condition monitoring and predictive maintenance are hot topics in factory automation. The numbers and ranges of solutions are growing and knowing where to start to find the right solution can be confusing and difficult. In his session, Tom will:
• Review customer feedback and research related to top customer concerns
• Cover general phases, symptoms, and severities when machines start to fail
• Look at the most common monitored machine characteristics (vibration, temperature, etc.)
• Discuss the top assets/machines (motors, pump, spindles, etc.), including "real-life" condition monitoring application examples and success stories
About Balluff Inc.: Balluff Inc., the U.S. subsidiary of Balluff GmbH, Neuhausen, Germany, is a leading manufacturer of a wide range of inductive, photoelectric, vision, capacitive and magnetic sensors as well as linear position transducers, RFID systems, and networking products. Balluff products for OEM and factory floor solutions are used to control, regulate, automate, assemble, position, and monitor manufacturing, assembly, and packaging sequences for industries including metalworking, automotive, plastics, material handling, wood processing, aerospace, alternative energy, medical, electrical, and electronics.
Featured Product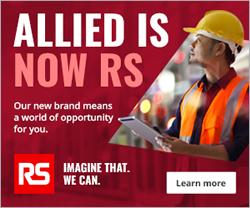 Based off the design pioneered by Anderson in 1953, the two pole SB® connectors set the standard for DC power distribution and battery connections. SB connectors feature a rugged one-piece plastic housing using stainless steel springs to retain the contacts and create the "contact force" that provides extremely low resistance enabling greater electrical efficiency. The SB connectors are also genderless (flip one 180 degrees and they will mate to each other) reducing the customer's bill of materials and providing greater economies of scale when purchasing. The SB series of connectors range in size from SB50 to the SB350. Each family size offers color-coded, mechanically keyed housings designed to prevent both visually and physically cross-mating devices with different voltages. All the connectors are UL rated to 600 volts, so the keys and colors are just identifiers to prevent accidents. Contacts are traditionally Silver plated to minimize electrical resistance while offering supreme durability and reliability.