The seamless steel pipe automatic baler is the most advanced baler at this stage, with high packing efficiency and can be automatically packed according to the seamless pipe sizes.
The seamless steel pipe automatic baler is the most advanced baler at this stage, with high packing efficiency, and can automatically pack according to the
seamless pipe sizes
, so that the user does not need to measure the length, width and height of the package. Its unmanned feature greatly reduces labor input, saves costs, and improves packaging efficiency. How to use it correctly?
1. For most packaging machinery, many of their power supplies use a three-phase four-wire system, and the flower wire is the grounding zero wire. So do not wipe the wrong power supply when operating, it will not protect against leakage.
2. After the steel pipe automatic baler is used for a long time, its heating plate will be very hot, so please do not directly touch the heating plate of the baler with your hands.
3. During the working process of the equipment, the head and hands cannot be passed through the belt path of the belt. This behavior is quite dangerous.
4. For the cleaning of the machine, do not rinse with water. The workplace should be kept dry at all times, and operators cannot work barefoot in wet conditions.
5. For the conveyor belt roller of the steel pipe automatic baler, the surface should not be stained with oil. When the belt is not in use, it should be rolled back to the belt reel and placed in the warehouse to avoid deformation when it is used next time.
​​
6. Turn off the power supply when the device is not in use.
​​
7. Do not disassemble some parts of the equipment at will.
​​
8. The main parts should also use lubricating oil frequently, so as to ensure the smooth operation of the machine.
​​
The correct use method can delay the service life of the seamless steel pipe automatic baler, so the inspection and maintenance during the use process are very important. Therefore, the user needs to be familiar with the correct use of the baler before use, and can operate it reasonably in the actual packaging production.
As a
sheet pile supplier
, Nansteel Manufacturing Co.,Ltd specializes in supplying various types of carbon steel pipes, pipe fittings, stainless steel pipes, piling pipes and steel sheet piles and a series of products. Its high-quality products and after-sales service have won praise from customers. For more, please visit: www.nan-steel.com
Featured Product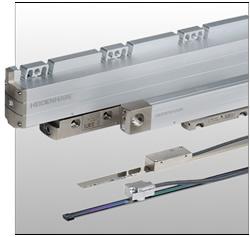 Nothing beats the positioning accuracy of linear encoders from HEIDENHAIN. Available in absolute and incremental versions and ideal for a variety of applications-including machine tools, semiconductor machines and medical machines-these measuring solutions combat a variety of issues that erode precision.