ELITER Packaging Machinery introduces the BT-2000L Cellophane Overwrapping Machine, which can operate at a higher speed up to 100 wraps per minute and in a stable manner.
Incorporated with patented technology Tri.Driver, the BT-2000L Overwrapping Machine, designed and introduced by ELITER Packaging Machinery, has become the market-leading overwrapping machinery in China.

Overwrapping machineBT-2000L is capable of reaching a maximum speed up to 100 overwraps per minute while ensuring a perfect tuck-and-fold wrapping performance, working stably without any fault or error. The patented technology makes it possible that the film infeed works in a fully reliable and precise manner when the machine is running at higher speed.
Apart from the performance, a new turret design is installed on the machine, thanks to which, components to be replaced for size changeover have been minimized and as a result, cost involved to cover a different product size is reduced to 1/3 of that of an old-design turret, seen on those normal overwrapping machines in the market. The structure is adjustable. Operator only has to replace some components on the turret and then configure the machine by rotating several screws and then it is done. A wide range of carton sizes are covered, any products the size of which varies between 60*40*20mm and 200*160*80mm are within the scope of the machine.
"Many suppliers on the market exaggerate that their machinery can also run at a higher speed. What is neglected is that the stability falls behind of the expectation that even evident vibration is observed. Being fast is not the only foremost advantage, however, an adequate machinery should be of both reliability and stability as well.", suggested Zixin Yuan, representative of ELITER Packaging Machinery.
The ambition of ELITER Packaging Machinery is to set a different brand recognition and stand apart from the stereotype that made-in-China packaging machines are cheap and of inferior quality.
"Frequently, we bump into clients who claim that our overwrapping machines are several times more expansive than the others in the market.", said Zixin.
"Installing a packaging machine is not a once for all business. Problems brought a cheap and inferior machine can be true disasters: ever-lasting endeavor to keep the machine running in a stable manner, faults, errors and even halt in production… the unexpected extra cost led by an inferior machine would be considerable. What we suggest that clients should focus on quality and reliability, but jut the price. And these are also what we strive to offer."
About
Overwrapping Machine
BT-2000L by ELITER Packaging Machinery
Installed with our patented technology Tri.Driver® that improves film infeed and operation stability when working at higher speed, the BT-2000L is currently the top leading overwrapping machine in the Chinese market with the capability of reaching 100 PPM as maximum and in the meanwhile ensuring a perfect film fold-wrapping performance. Apart from the advanced technique, the machine is built with an improved turret design that calls for less format mold cost and fast, quick, and easy format change manipulation. All of these features make it the unparalleled automatic overwrapping machine in China.
Features of Overwrapping Machine BT-2000L by ELITER Packaging Machinery
Second generation film overwrapper with leading output in the market. An ÉLITER Solution with a stable and efficient function. The machine is designed with economic concern regarding film consumption and the cost of format changing. BT-2000L can be adapted and connected as well to miscellaneous machines to form a turnkey packaging line with no conflict or restriction put to the packaging line as a whole due to its higher output. The main advantages of BT-2000L are as follows:
- Unparalleled output (compared with old-design overwrappers in the Chinese market)reaching up to 100 wraps/minute while rendering a perfect wrapping performance
- Advanced film infeed system that enhances film infeed stability when working at high speed
- Incorporated with our patented technique Tri.Driver®
- Adjustable structure that enables quick format change to cover various product sizes.
- Turret wrapping process and up-to-date turret design that calls for only 1/3 of format components cost in contrast with older-design overwrappers in the market
About ELITER Packaging Machinery
ELITER Packaging Machinery is a packaging machinery manufacturer in China. The companies offer secondary packaging automation solutions including cartoning machines and overwrapping machines, as well as non-standard & customized solutions.
Fore more information, get in contact with
Zixin Yuan - Digital Marketing Coordinator at ELITER Packaging Machinery
zixin.yuan@eliter-packaging.com
www.eliter-packaging.com
Featured Product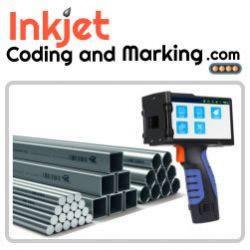 Print On Any Surface...Metals, Plastics/Composites and Glass. Handheld Printers and InLine Inkjet Printing Systems for Factory Automation, with PLC Control. Inkjet Coding and Marking Printers can be used for direct coding of parts or industrial products and compliance marking on Primary or Secondary Packaging. Small or Large Character Inkjet Coding & Marking with Barcodes and Logo Graphics printing. Integration with Handheld Barcode Readers (Scan and Print) for Track and Trace and Database connectivity printing of variables data. Motion Control Traverser Printing Automation. Top Brands: EBS HandJet 260, EBS250 HandJet, Sojet V1H Handheld Printer, Reiner JetStamp 790MP and RN Mark 7 Printing System.